[Lake Champlain]. Pen and ink with watercolor on paper, ca. 1753. Thomas Gage Papers. Map Division, Maps 4-L-4.
With Crown Point firmly under control by early August, the broader northern expanse of Lake Champlain beckoned to Amherst as a highway to Montréal.  Little stood in the way other than Bourlamaque's small blocking force at Isle aux Noix and some pitiful forts along the Richelieu River.  The only other serious obstacle was a squadron of four small French warships cruising the wider waters of the lake.  They were powerful enough to wreck a fleet of small boats, however.  Amherst needed to gain control of the waters.
The summer of 1759 passed as the British labored to construct a pair of warships at Ticonderoga.  These were finally ready for service by early October and moved north ahead of Amherst's boats.  The British vessels drove three of the French gunboats into Cumberland Bay (modern Plattsburgh, N.Y,), where their crews scuttled them on October 12.
Nature was not so easy to overcome.  Amherst's boats had set out from Crown Point on October 11 but were trapped by bad weather at the Isles aux Quatre Vents (bottom center on the map).  The campaign season had passed, and Montréal would not be included among the British victories of 1759.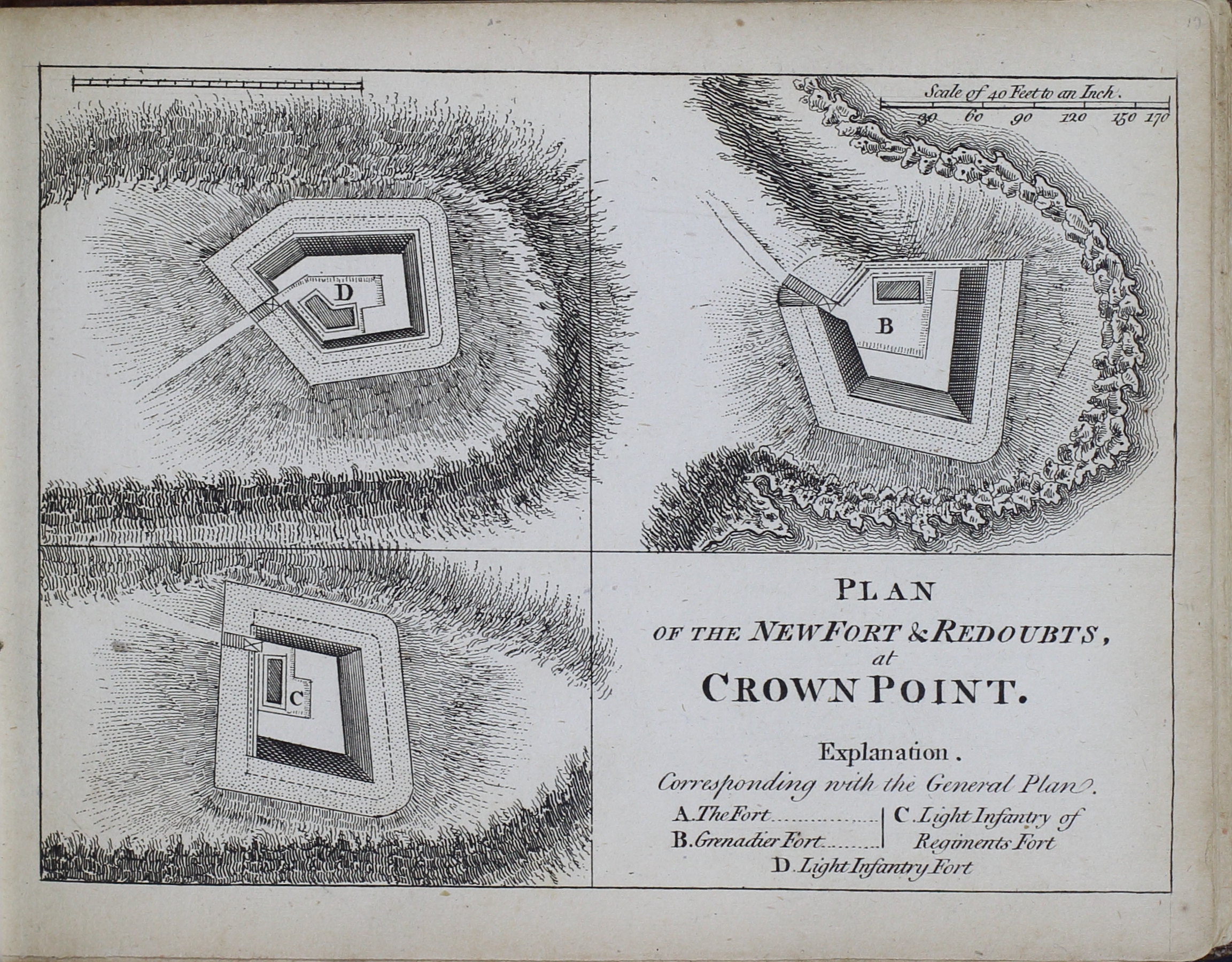 Mary Ann Rocque, Plan of the New Fort & Redoubts. At Crown Point.in A Set of Plans and Forts in America. Reduced from Actual Surveys. London, 1763. Map Division, Atl2 1763 Ro.
The fort begun at Crown Point by Jeffery Amherst in 1759 was the largest constructed in colonial North America.  Three strong earthen redoubts served as an advanced defense for the fort.  Soldiers labored on the huge pentagonal earthwork for several years but never brought it to completion.  These engravings, based on engineers' plans, appeared in 1763.
Thomas Hart, publisher, Major Robert Rogers. Mezzotint. London, 1776. Graphics Division, Prints H-16.
Major Robert Rogers (1731-1795) was leader of the companies of rangers serving with Amherst's army.  In September and October, as the British prepared to advance northward from Crown Point, Rogers led a diversionary, punitive raid down Lake Champlain and into Canada against the Abenaki Indian mission village of St. François or Odanak.  Although the attack was a destructive blow against a group of Native Americans who had become bitter enemies of frontier New Englanders, it had no real effect on the overall campaign.
[Samuel Morris Diary], September 13, 1759. Manuscripts Division, Miscellaneous Bound.
On September 13, Rogers left Crown Point with 200 men and 30 days' provisions to attack the Abenaki village.  Samuel Morris recorded their departure in his diary, exaggerating the size of the detachment (middle left).
Brasier, William. "A Survey of Lake Champlain including Crown Point and St: John's . . ." Detail. Pen and ink with watercolor on paper, 1776. George Germain Papers. Map Division, Maps, 3-L-3.
Rogers's rangers stealthily rowed down (north) Lake Champlain in swift whaleboats.  Slipping past the French warships, they landed on the east shore of Missisquoi Bay at the northeastern end of the lake.  The rangers concealed their boats at the place noted at middle right on the map but were unable to recover them for their return to Crown Point because the French had discovered and burned them.  After destroying Odanak, the rangers headed south on an alternate return route through the wilderness, pursued for part of the way by French and Indian forces.  Only about 95 of Rogers's men completed the harrowing march.