While parodies of black Americans dominated Edward W. Clay's early works, he and his peers were quick to extend their visual critiques to other figures on the urban landscape. Clay treated figures from Irish immigrants to anti-slavery activists with sharp derision. Their physicality and seeming transgression of social norms suggested how the social and political transformations in antebellum American continued to generate questions about the contours of the social order. In Europe, caricaturists wrestled with the legacies of slavery and the challenges of colonialism. In France, Japanese visitors to Paris, leaders of independent Haiti, and the indigenous peoples of the Pacific islands were represented as over-reaching and misplaced persons in France. In the hands of British artists, the former slaves of the West Indies and Australia's new colonial subjects were depicted as ill-fitting aspirants to membership in the United Kingdom's social milieu and body politic.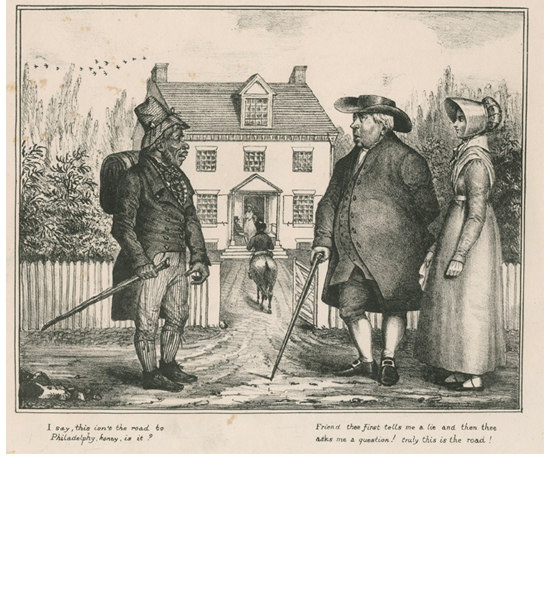 Edward Williams Clay (1799-1857)
"I say, this isn't the road to Philadelphy, honey, is it?…"
Ca. 1830 
Lithograph, 27 x 34 cm. 
William L. Clements Library, University of Michigan
Clay's borrowings from British illustrator George Cruikshank are evident in this reinterpretation of Cruikshank's 1807 "The Road to London." Clay replaces the "Countryman" in Britain with the Irishman in Philadelphia.
Cham (Amédée-Charles-Henri de Noé) (1819–1879)
"Croquis, Par Cham." 
Wood engraving, 43.5 x 30 cm. 
In: Le Charivari. Paris: ca. 1864 
William L. Clements Library, University of Michigan 
Noé, under his pen name Cham, parodies Japanese visitors to Paris, who after taking the trouble to clothe themselves in the latest fashion, show their otherness by neglecting to cut their hair.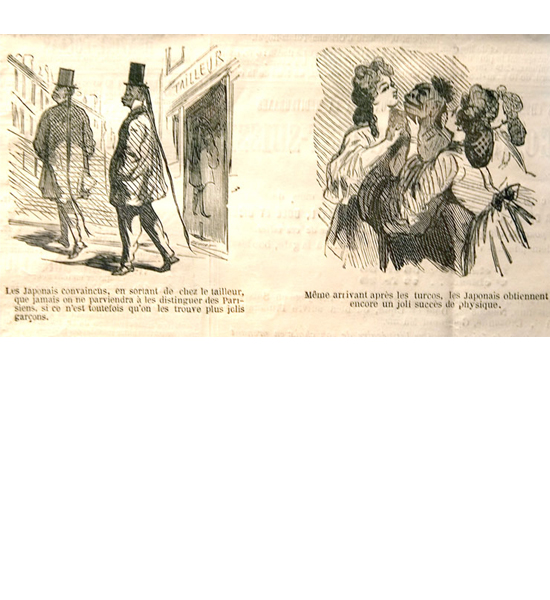 Honoré Daumier (1808–1879) 
"Actualities. Soulouque trouvant qu'a Paris, la location des cases et beaucoup trop chére." 
Lithograph, 29 x 28.5 cm. 
In: Le Charivari. Paris: 1859 
William L. Clements Library, University of Michigan 
Daumier produced numerous caricatures of Haitian Emperor Faustin Soulouque. Here, Soulouque and his female companion promenade through Paris's streets, but are said to find apartment prices too high. The Emperor never visited Paris in his lifetime.
Clay and Daumier, among the very most prolific satirists of their era, appear to be uninfluenced by each other yet their careers had strong parallels.
Jean Ignace Isidore Gerard Grandville (1803–1847) 
"Un Menuet Aux Iles Marquises." 
Ca. 1843 
Lithograph, hand colored, 27 x 19.5 cm. 
William L. Clements Library, University of Michigan 
Artist Jean Grandville parodies the royal aspirations of the indigenous people of the French Marquesas Islands.