PHILADELPHIA'S CONTESTED BLACKNESS
In Philadelphia, representations of blackness emerged across a contested terrain. Edward W. Clay's derogatory representations of black Americans did not stand alone. The city's free black leaders commissioned renderings – their own portraits as well as portraits of their institutions. Charles Willson Peale painted romantic images of Philadelphia's black working class figures. James Akin included rather ordinary black figures in his animated parodies of the city's sporting culture. John Lewis Krimmel also deployed caricature's techniques to question the character of black culture. Abolition activists, including the African American engraver Patrick Reason, circulated their own depictions of black Americans. Most popular was the image of the kneeling slave supplicant pleading "Am I Not a Man and a Brother?"
There was no single answer to the question that Clay and these other artists posed. Who were black Americans, and who might they be in urban settings like Philadelphia? If in Clay's images they were misplaced when aspiring to middle-class trappings and style, alternative visual vantage points suggested that black people were sympathetic, respectable, and sometimes unremarkable actors on the urban landscape.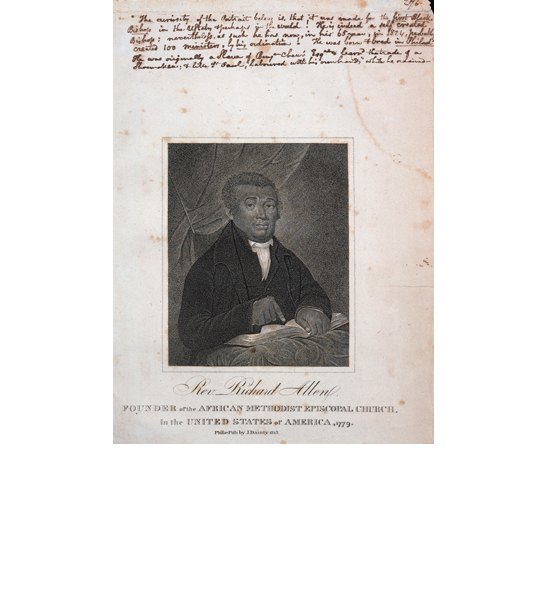 "Rev. Richard Allen, founder of the American Methodist Episcopal Church, in the United States." 
Philadelphia: S. Hart, ca. 1830
Engraving, 29 x 21 cm. 
Note: annotated "The curiosity of the portrait below is that it was made for the first Black Bishop in the UStates and perhaps the world!" Library Company of Philadelphia 
AME Church Bishop Richard Allen commissioned this portrait by Philadelphia engraver John Dainty.
James Akin (ca. 1773–1846) 
"Philadelphia Tastes Displayed or Bon Ton Below Stairs." 
Philadelphia: Kennedy & Lucas, ca.1830
Facsimile of: lithograph, hand colored, 24 x 35.5 cm. 
Image courtesy Historical Society of Pennsylvania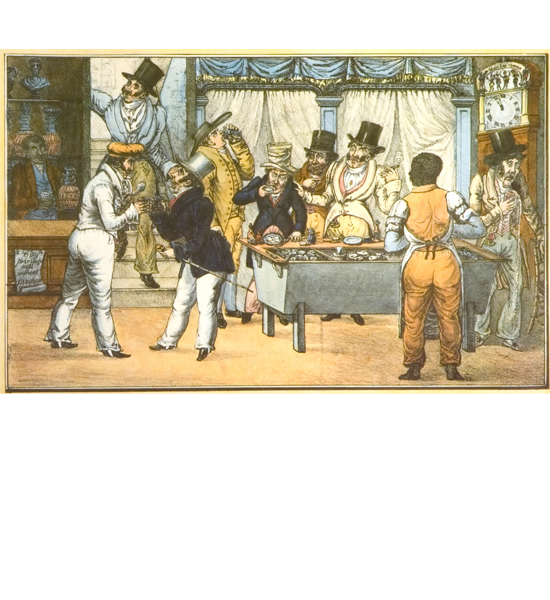 Charles Willson Peale (1741–1827) 
"Yarrow Mamout." 
1819 
Facsimile of: oil on canvas, 61 x 51 cm. 
Atwater Kent Museum of Philadelphia, The Historical Society of Pennsylvania Collection. Image courtesy Atwater Kent Museum 
Peale met Yarrow Mamout in Washington, D.C.'s Georgetown neighborhood and later recorded his encounter with the elderly former slave in his diary.
Patrick Henry Reason (1816–1898) 
"Am I Not a Woman and a Sister?"
Wood engraving, 18 x 11 cm. 
In: George Bourne. Slavery Illustrated In Its Effect Upon Woman and Domestic Society.
Boston: Isaac Knapp, 1837 
William L. Clements Library, University of Michigan 
While the origins of this image were in 1787 London and the Society for Effecting the Abolition of the Slave Trade, African American engraver Patrick Reason produced this version for an 1837 Boston anti-slavery tract.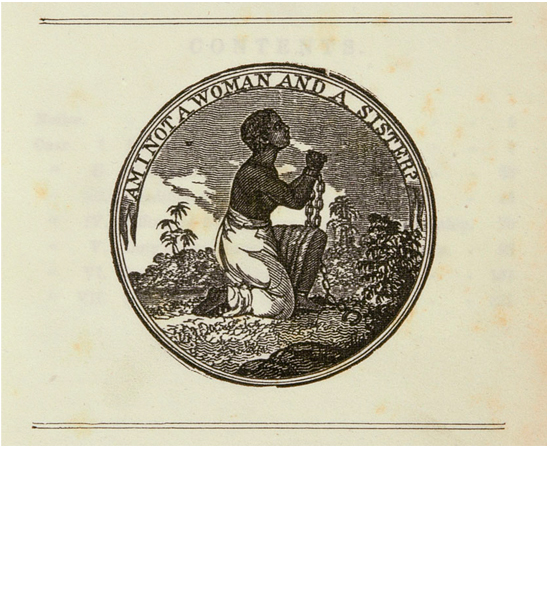 Patrick Henry Reason (1816–1898) 
[James Williams] 
Stipple engraving, 14.5 x 9 cm 
In: James Williams. Narrative of James Williams. New York: American Anti-Slavery Society, 1838 
William L. Clements Library, University of Michigan 
The Narrative of James Williams was a controversial text, with anti-slavery reformers promoting its veracity while others charged that Williams' story was not supported by extrinsic evidence. Williams' narrative was the tale of a young man's harrowing escape from enslavement in Virginia. In the hands of African American engraver Patrick Reason, Williams appears as a respectable urban gentleman rather than the text's terrorized slave.