The Clements Library is fortunate to have a community of historians, bibliophiles, collectors, researchers, teachers, and students who are willing to come together around this library to support the exploration and examination of history and help make it as accessible as possible. I had the privilege of talking to some of our donors who have set up recurring monthly gifts for the Clements Library. I love hearing about how folks become involved in the library and what prompts them to give.Lisa Pappas has worked at the University of Michigan for seventeen years. Today, she is not only a recurring contributor to the Clements Library, but she is a regular researcher as well. "I'm just a community member with an innate sense of curiosity," Lisa said during our phone conversation. Her curiosity first brought her to the Clements when the University was celebrating its bicentennial anniversary. Interested in looking at the Treaty of Fort Meigs–in which the Anishinaabeg ceded land that would...
read more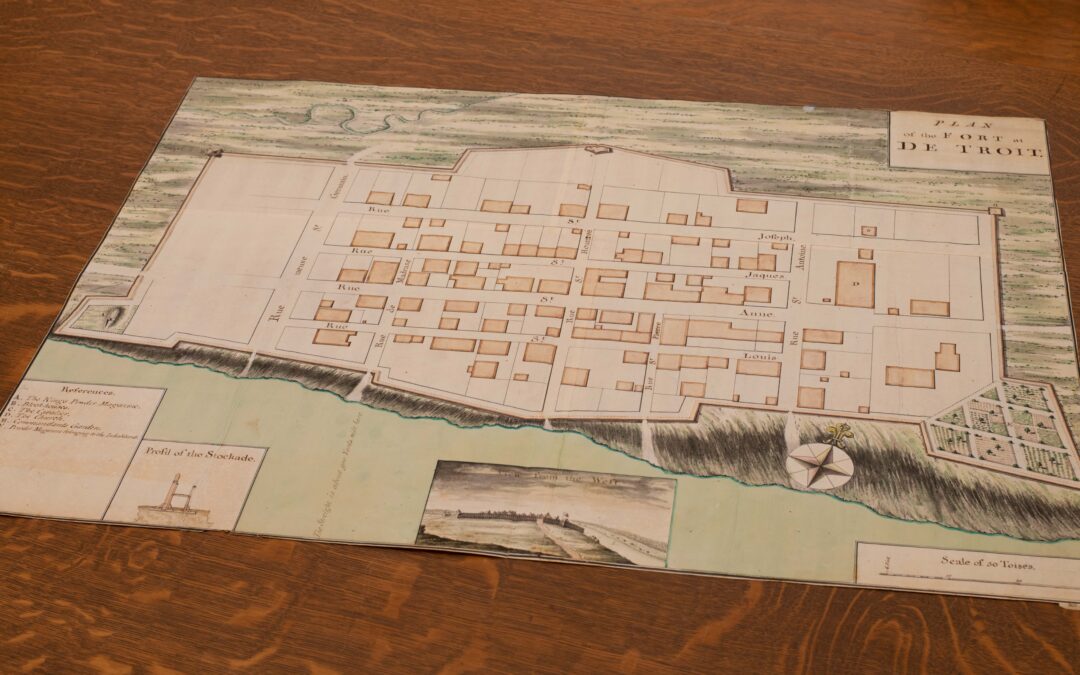 The last time the general public had the opportunity to see the "Plan of the Fort at De Troit" was in 1967 when it was offered for sale at Sotheby's. Now it will be part of the University of Michigan's William L. Clements Library collection. Not knowing to whom the original was sold back then, former Clements curator Brian Dunnigan studied the photo included in the Sotheby's auction catalog to write about this hand-drawn map for his book Frontier Metropolis: Picturing Early Detroit. "This map was executed by noted surveyor and map draftsman William Brasier for General Jeffery Amherst in 1761," explains Dunnigan, now curator emeritus of maps, who is an expert in early Detroit, Mackinac, Niagara and 18th-century Great Lakes history. "Comparing maps helps to understand the growth and changes taking place in Detroit. This map was drawn just months after Detroit was ceded from New France to Great Britain and depicts the fort that was later attacked by Pontiac and his warriors during the...
read more
A Few Collectors who shaped our Collections
Brief Biography: James Stanley Schoff
In 1974, James S. Schoff (1900-1984) donated his substantial collection of unit and campaign histories on the Civil War, as well as funds to purchase additional material, establishing the James S. Schoff Civil War Collection.
Brief Biography: David V. Tinder
U-M graduate, collector, and researcher David V. Tinder (1926-2016) was recognized as an authority on the subject of early Michigan photography. Clements Library Associates Board Member David B. Walters purchased Tinder's photo collection in 2006 and has been incrementally donating it in honor of Harold L. Walters (U-M Engineering '47) and Marilyn S. Walters (U-M LSA '50), establishing the David V. Tinder Collection of Michigan Photography.