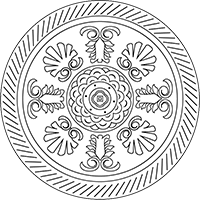 Barbara Bradley
Clerk
barbbrad@umich.edu | 734-764-2347
Pronouns
|
she/her/hers
---
I staff the reception desk in the afternoon at the Clements Library. I am the first person you will meet when you enter the Library through the north door.
I graduated from Eastern Michigan University with a B.S. degree in Elementary Education. I have 31 years of experience in K-12 public education, both in a secretarial capacity and, most recently, in the role of technical support for a 5th-6th grade building. I am a technology "geek" and was fortunate to be able to combine my love of technology with my love of education for many years. In 2010 I took an early incentive retirement from K-12 education with the intention of pursuing employment in a different environment to help "round out" my career. I am new to the Clements Library, having just joined the staff in January 2013. This is my first opportunity to work at the University level. I am thrilled to be a part of a top-notch university. Go Blue!
I greet and register readers, answer the main phone lines, record the hours that our volunteers work, and maintain the reader database. I also assist the various departments with special projects when extra help is needed.