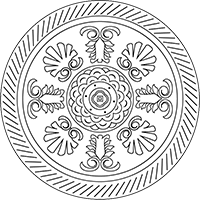 Clayton Lewis
Curator of Graphics Material
clayclem@umich.edu | 734-615-7202
Pronouns
| he/him/his
---
I'm the Curator of Graphics Material. I oversee the Clements' collection of historical prints, photographs, artwork, illustrated sheet music, ephemera, and other visual materials. I assist researchers and promote the use of visual materials as a source for advanced scholarship.
Background
I hold a B.F.A. from Swain School of Design (1982) and an M.F.A. from Parson School of Design (1985). I worked as adjunct faculty to the University of Michigan School of Art and in the field of commercial printing before becoming the first Curator of Graphics Material at the Clements in 2002. I'm author of numerous articles and curator of exhibits on various historical subjects including vernacular photography, early racial satire, popular and patriotic music, wartime art, and American leisure travel.
Responsibilities
My primary responsibilities are organizing, preserving, and providing access to the visual materials of the Clements Library. I also provide digital imaging services as needed.