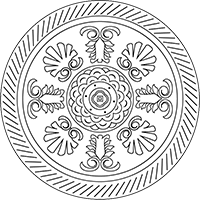 Erin Berger
Information Resources Assistant
Pronouns
| she/her/hers
---
I work as an Information Resources Assistant for Reader Services while also aiding the Graphics and Manuscripts Divisions.
Background
In 2012, I received my B.A. from Western Michigan University in History with a focus on Christianity in Medieval Europe. In 2014, I received my M.S. from Eastern Michigan University in Historic Preservation. I began working at the Clements Library in May of 2018.
Responsibilities
I split my time between supervising the Reading Room and working at the South Reception. My daily responsibilities include monitoring researchers to ensure proper handling of materials, providing assistance to readers and visitors when needed, and working on various projects for the Graphics and Manuscripts Divisions.