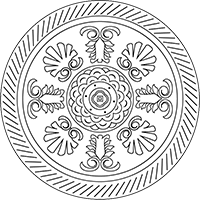 Kayla Robinson
Marketing Coordinator
kaylaro@umich.edu | 734-647-0864
Pronouns
| she/her/hers
---
I am the Marketing Coordinator within the Development department at the Clements.
Background
I graduated from Columbia College Hollywood (2021) with my Bachelor's in Film with an emphasis in Producing. I began my journey of marketing and social media there through crowdfunding and building campaigns for student films. I am passionate about creating visibility and awareness for all that we do and have here at the Clements. I've grown up very interested in history specifically involving literature and underrepresented voices and communities. I started working at the Clements Library January 2023.
Responsibilities
My main responsibility at the Clements is to amplify the library's mission and maintain our digital presence and voice. I manage all digital marketing through social media, content creation, blog content, email newsletters, and website development. I also handle press releases, event publicity, publishing The Quarto, and creating print materials and merch.