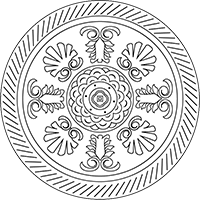 Lia Adamopoulos
Information Resources Assistant
garifili@umich.edu | 734-764-2347
Pronouns
| she/her/hers
---
I work within Reader Services as an Information Resources Assistant.
Background
I graduated in 2013 with my bachelors in a double major in Psychology and Women & Gender Studies. Before joining the Clements in February 2023, I was a book processor at Ann Arbor District Library for 5 years. Currently, I am in the process of obtaining my Masters in Library Science through University of Denver's Morgridge College of Education Online. On a personal note, I adore many things, including coffee, writing, travel, and cats.
Responsibilities
As an information resource assistant, I retrieve items for use, supervise the proper handling of materials in the reading room, and ensure they are shelved safely away after use. I also assist curators with tasks related to their projects.