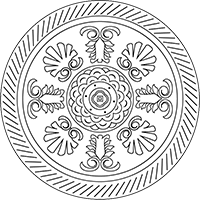 Louis Miller
Reading Room Supervisor
louismi@umich.edu | 734-764-9982
Pronouns
| he/him/his
---
I am employed as an Information Resources Assistant. I divide my time between Reader Services, and the Graphics and Map Divisions.
Background
I graduated from Kalamazoo College in 2013 with a B.A. in History. In April of 2016 I graduated with an M.S.I. from the University of Michigan's School of Information specializing in Archives & Records Management. I began working at the Clements Library in April 2015 as a Project Archivist for the processing of the Henry Burbeck Papers and have worked here in various positions ever since.
Responsibilities
In the Graphics Division and Map Division I assist in cataloging materials as well as creating EAD finding aids for collections. For Reader Services, I help provide access and guidance in the use of our collections, retrieve and return materials, and respond to reference queries.