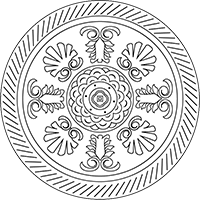 Sara Quashnie
Reader Services Support Specialist
squashni@umich.edu | 734-764-2347
Pronouns
| she/her/hers
---
I work as an Information Resources Assistant at the Clements in both Reader Services and with the Manuscripts Division.
Background
In 2015, I graduated from the University of Notre Dame with a BA in History (Concentration in Modern Europe) and Art History. I returned to school for my MSLIS and graduated from the University of Illinois at Urbana-Champaign in August 2017. In April 2018, I started at the Clements.
Responsibilities
As Reading Room Supervisor, I circulate materials to researchers and monitor their use. Additionally, I work on manuscript collections processing including creation of finding aids and updating inventories.