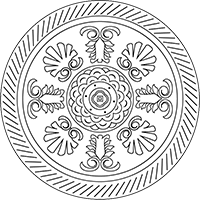 Tiffani Ihrke
Marketing Coordinator
tihrke@umich.edu | 248-409-8330
Pronouns
| she/her/hers
---
I am the Marketing Coordinator within the Development department at the Clements.
Background
I graduated from the University of Michigan in 2023 with a Dual Bachelor's degree in Psychology and Communication and Media studies. I found my passion for marketing and social media through my own personal hobbies and have never looked back. I am passionate about creating visibility and awareness for all that we do and have here at the Clements. One of the values that I hold very deeply is giving a platform to underrepresented voices and communities, and that is what I am to do here at the Clements. I started working at the Clements Library in November 2023.
Responsibilities
My main responsibility at the Clements is to amplify the library's mission and maintain our digital presence and voice. I manage all digital marketing through social media, content creation, blog content, email newsletters, and website development. I also handle press releases, event publicity, publishing The Quarto, and creating print materials and merchandise.