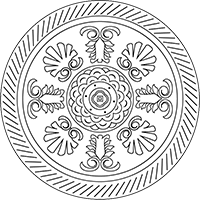 Tracy Payovich
Marketing & Communications Assistant
tgierada@umich.edu | 734-647-0864
Pronouns
| she/her/hers
---
In October 2018, I joined the Development office at the William L. Clements Library as Marketing & Communications Assistant.
Background
I attended the University of Michigan for my BA in History (2006), where my undergraduate honors thesis earned the James A. Knight Scholarship in History Award. Continuing my interests in American history, I graduated from Brown University with an MA in Public Humanities (2008). As an intern and fellow at the Newport (RI) Historical Society, I loved giving tours of colonial-era historic landmark buildings and neighborhoods. Between 2009-2018 I held positions as an education director, curator, and director with local history museums in southwest Michigan.
Responsibilities
As Marketing & Communications Assistant, I have a range of duties to help connect scholars, supporters, and our broader community with the mission of the Clements Library. I coordinate our social media presence, blog, email newsletters, website updates, and other communications. I also work on the organization and promotion of lectures, events, and exhibits, and graphic design for publications and marketing materials.