Larger Digitization Projects
The library has a small digitization staff and balances multiple priorities for scanning. If you have a collaborative project to propose that would require more than 50 publication-quality images of Clements Library materials, please get in touch. We will let you know whether the project is within our capacity at this time. Please contact us with any questions.
If you need reference images, please use our regular ordering process to request up to 50 pages. 
We can consider proposals for items that meet all of the following criteria:
Stable enough for standard handling on one of our scanners
Being digitized in full (no single pages from books or selected items from manuscript collections)
Under 900 pages or 0.5 linear feet total *
Out of copyright
Can be added to one of our digital collections and made freely available after digitization
Does not require rush service
* At this time, we are not able to fill requests to scan entire collections exceeding 0.5 linear feet total (e.g. the Henry Clinton Papers).
Examples of types of materials that can be done:
Pricing is determined by the type of material, its condition, whether special handling is required, quantity, and other factors.
Large orders will require additional time.
When submitting your proposal, please include the following information:
Description of item or collection to be scanned, including estimated number of pages/items. 
Anticipated use of digital images.
Any deadlines associated with the project.
Where to find page numbers in the library catalog: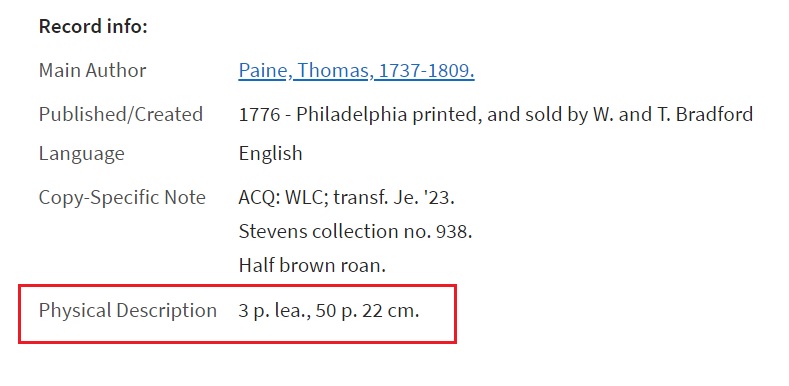 Where to find collection extent in a finding aid: