Teaching with Collections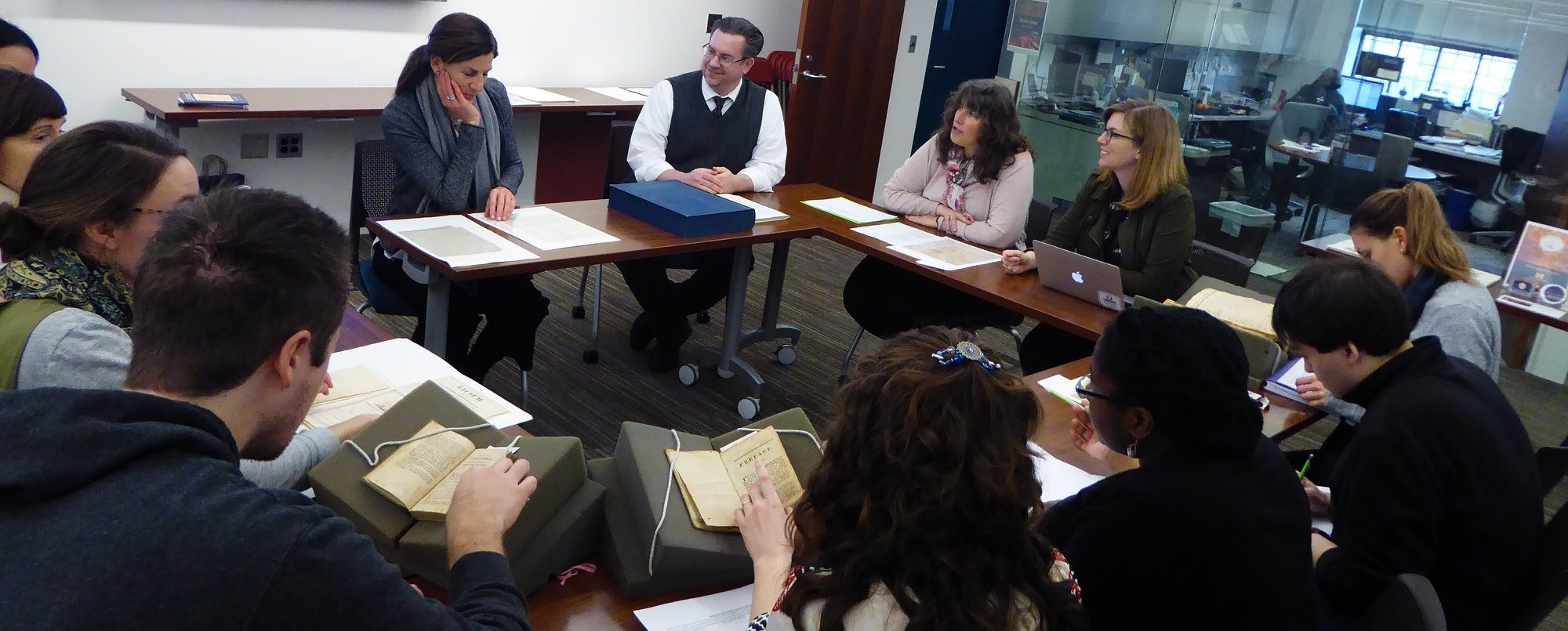 The Clements Library welcomes and encourages session visits for undergraduate and graduate courses that relate to the library's collections. Our curators and staff members are available to collaborate on a variety of different learning experiences, including introductions to collection materials, sessions focused on specific topics, hands-on encounters with primary sources, and more.
The Clements Library has a meeting room which may be used for classes working with our materials.
We can accommodate up to 25 students per session during regular library hours. Special arrangements may be made for sessions with larger enrollments or for meetings outside these hours. An instructor from the course is expected to attend the session.  
Please make your requests early to ensure availability, especially for larger sessions. We need a minimum of three weeks notice prior to the date you wish to request.
You'll be asked for the following information when you submit a request:
Course title and number
Number of students in the class
Instructor contact information
Three possible dates and times for your visit, in order of preference
Description of your proposed visit
Whether follow-up use of materials is expected
Once your session has been scheduled, please reach out to the staff member you will be working with to begin planning.
Register for a Clements Library account to place your requests online.You can select collection materials for your session by searching the library catalog and finding aids. 
Library staff can also suggest materials that may be pertinent to your subject. Please do not hesitate to ask for help.
We ask that requests for materials be submitted no later than 7 business days before the first class session. That gives us enough time to retrieve materials and when necessary provide substitutes for material that is too fragile or otherwise unavailable.
We recommend that you ask for no more than 12 items for each 60 to 90 minute session. Fewer items can allow students to engage more closely with the materials.
Please share the following information with your students:
Make sure your students know where to meet for your class. Students will need to use the north entrance of the library (directly opposite the Hatcher Graduate Library) and sign in with our receptionist before entering the meeting room. See additional accessibility information about the library. 
Review our library policies with your students. Food, drink, and gum are not allowed in the library. Students will be asked to leave personal belongings (including all bags and jackets) outside the meeting room.
Pencils, paper, and other note-taking materials are permitted (no pens). Please silence your phones.
Our materials are fragile and require special care. If your session will involve hands-on use of materials, please wait until you have received instruction from the curator to handle materials. We ask that you not touch items on display unless directly invited to do so.