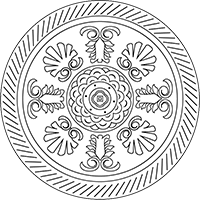 Many generous supporters have helped to establish the Clements as one of the premier research and collections libraries in the country.
Ruth Waldron, a 1923 University of Michigan graduate, left the Clements Library an important bequest in 1991 that has been used to support significant purchases. Renowned American book dealer Lathrop C. Harper worked closely with William L. Clements to build the Library collection. Later, Harper and his wife Mabel donated funds that are still used to make key acquisitions. These examples, and many more, show that an estate gift can make an important difference to the Clements Library.
An estate gift to the Clements Library will provide the donor with considerable flexibility so that you can achieve your goals. For more detailed information about the University of Michigan's gift planning services, please view their website at plannedgiving.umich.edu.