"Stepping Stones to Fortune," 1888.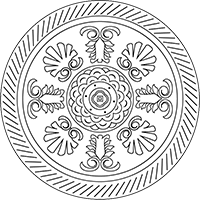 The Stepping Stones to Fortune, or, Hints for the Inventive. Washington, D.C., 1888.
This small advertising pamphlet outlines the steps for inventors to procure a patent and encourages prospective inventors to contact the firm of George G. Schroeder for assistance. The illustrated wrapper provides an unusually vivid illustration of the stepping stones across the river, with an angelic figure holding bags of money waiting on the other side.