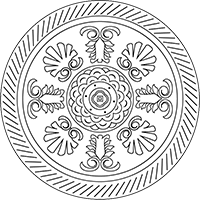 Angela Oonk
Director of Development
angmo@umich.edu | 734-647-0864
Pronouns
| she/her/hers
---
I am often baffled when I hear that someone has gone on vacation to relax! My ideal vacation involves historical sites, museums, national parks and anywhere else providing a unique, immersive learning opportunity. I am so proud to be working at a world-class historical library where the stories of this country are discovered, preserved, studied, and shared every day.
Background
I became Director of Development at the Clements Library in 2015 after working in Stewardship at the Office of University Development since 2010. My husband and I are both proud University of Michigan graduates. I hold a Bachelor of Science degree from the School of Natural Resources and the Environment in Environmental Policy. As an undergrad I worked at the Museum of Natural History and as an intern, I led their first "Buy A Bone" campaign and have been working as a fundraiser ever since.
Responsibilities
Through excellent communication and integrity in relationships with volunteers, donors and colleagues, I raise money for and promote awareness of the mission of the Clements Library.