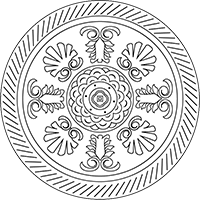 Anne Bennington-Helber
Assistant Director of Development
abhelber@umich.edu | 734-764-5864
Pronouns
| she/her/hers
---
I'm one of four within the Clements Library Development department. I assist in the planning and preparation of membership activities and events; work closely with the Clements Library Associates; and assist in the creation and production of marketing materials for the Library.
Background
I have worked at the Clements Library since 2009, and before that was active in the community while at home raising my two children. Before children, I worked for the Michigan Chapter of The Nature Conservancy in East Lansing where I held a variety of positions within Development. I received a Bachelor's in communications with public relations emphasis from Western Michigan University.
Responsibilities
I am responsible for membership services; membership mailings and events; and making sure that our members and interested individuals are made aware of ongoing events at the Library.