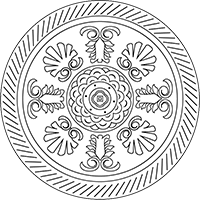 Cheney J. Schopieray
Curator of Manuscripts
chjoshua@umich.edu | 734-764-9926
Pronouns
| he/him/his
---
I am Curator of Manuscripts at the William L. Clements Library.
Background
I began working in the Manuscripts Division of the Clements Library in 2002. I became Assistant Curator of Manuscripts in 2009 and Curator of Manuscripts in 2013. I obtained my M.S.I. degree from the University of Michigan's School of Information in 2009, with a specialization in Archives and Records Management. I earned a bachelor's degree in philosophy from the University of Michigan in 2005.
Responsibilities
As curator, I manage the various operations of the manuscripts division. My responsibilities include collection development; grant writing; the oversight of grant-funded projects; reader assistance; library, university, and professional committee work; class presentations about the Library's primary source materials, and writing articles for publication.