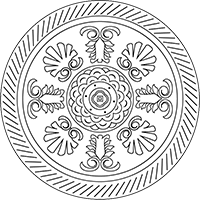 Chris Ridgway
Digitization Specialist
cridgway@umich.edu | 734-763-7493
Pronouns
| he/him/his
---
As a digitization specialist I work to digitize books, manuscripts, maps, prints, and photographs related to the subject of early American history.
Background
After obtaining my M.F.A from the Massachusetts College of Art and Design in 2015, I worked to photograph and digitize other museum and cultural collections at the Toledo Museum of Art. I started working with the Clements Library in March of 2020.
Responsibilities
My responsibilities allow me to work closely with library curators and a conservator to select and prepare materials for digitization, perform in-house digitization, and create descriptive metadata. With increased demand for these materials to be made available online, I am able to digitize various collections in a systematic manner, in addition to digitizing materials upon request from researchers and library staff.