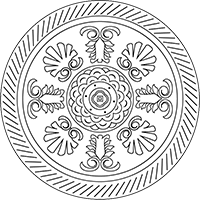 Emma Schneider
Information Resources Assistant
emmaschn@umich.edu | 734-764-2347
Pronouns
| she/her/hers
---
About
I work within Reader Services as an Information Resources Assistant.
Background
I graduated from Kalamazoo College in 2021, earning my Bachelor of Arts in History and Religion, with specific interest in Catholicism and Medieval History. I completed my senior capstone project or "thesis"
entitled "Jazz Funerals in a Pandemic: A Celebratory-Mortuary Ritual of New Orleans," where I examined the importance of death rituals and traditions, the creativeness and innovations in material culture and roles of technology and their ability to maintain and create new meanings in celebrating life in a time of mass death. Outside of work, I enjoy activities such as backpacking/hiking/camping, reading, and cooking. I began work at the Clements in April of 2023.
Responsibilities
As an Information Resources Assistant, I help to retrieve and reshelf materials used by researchers and help to oversee the proper use and handling of such materials in our reading room.