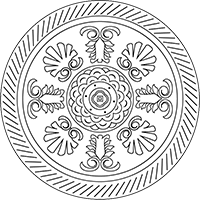 Helen Harding
Development Generalist
helnhard@umich.edu | 734-763-7493
Pronouns
| she/her/hers
---
I am a Development Coordinator within the development team at the Clements Library.
Background
I grew up in a family that loved history–we watched PBS, went to Civil War reenactments, and read historical fiction. My love of history led me to the American Culture program here at the University of Michigan, where I earned my bachelor's degree. I am especially interested in learning about history from the perspective of traditionally underrepresented communities, particularly if it intersects with food or music. When I'm not working I am either in the kitchen, in my garden, on my bike, making music, with my sweet family and friends, or any combination thereof.
Responsibilities
As a development generalist, I am involved in many different areas that support the Clements Library and the rest of the development team. I am the liaison to the Office of University Development and partner with them on their university-wide campaigns and annual giving. I also have the privilege of connecting with and cultivating new donors. Additionally, I coordinate and co-host a variety of events here at the Clements.