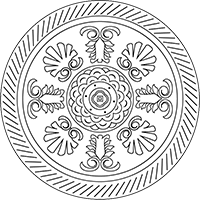 Jakob Dopp
Graphics Division Cataloger
jwldopp@umich.edu | 734-764-9982
Pronouns
| he/him/his
---
I am employed as an Information Resources Assistant. My time is divided between the Graphics Division and Reader Services.
Background
I graduated from Michigan State University in 2013 with a B.S. in Psychology before obtaining an M.S.I. in Archives and Records Management from the University of Michigan's School of Information in 2016. I started working at the Clements Library in January 2017.
Responsibilities
My primary responsibilities are cataloging Graphics Division materials as well as creating and editing EAD finding aids for Graphics Division collections. I also assist Reader Services through monitoring visiting researchers in the reading room, retrieving and returning materials and offering assistance in accessing and using Clements Library collections.