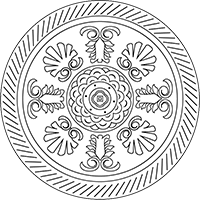 Jayne Ptolemy
Assistant Curator of Manuscripts
jptolemy@umich.edu | 734-615-4666
Pronouns
| she/her/hers
---
I am the Assistant Curator of Manuscripts, and I also respond to reference inquiries about the Manuscripts Division.
Background
I received my B.A. from Albion College in 2006 with a major in History and a concentration in Ethnic Studies. In 2013, I graduated from Yale University with a dual Ph.D. in History and African American Studies. I started working at the Clements Library in 2013.
Responsibilities
In the Manuscripts Division I help accession new materials, write and update finding aids, and collaborate with other team members on digital projects and collection processing. I work closely with our Reference Division, offer support in the reading room, and respond to online reference requests regarding our manuscript materials. I also assist with the administration of our fellowship program.