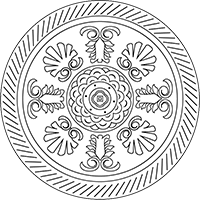 Oksana Linda
Rare Book Cataloger
olinda@umich.edu | 734-647-0987
I work in the Book Division and catalog rare printed materials relating to the history of America.
Background
I have worked at the Clements Library since 1998. Prior to that I cataloged materials in Slavic and Western European languages at Harvard College Library Preservation Center, Cambridge, Massachusetts. I obtained my M.S. degree in Library and Information Science with Archives Management concentration from Simmons College. I have also taken several additional courses at the Rare Book School, University of Virginia.
Responsibilities
My main duties involve interpreting, entering, and editing bibliographic records in the library catalog.