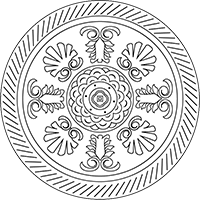 Valerie Proehl
Reading Room Supervisor
valpro@umich.edu | 734-764-2347
I'm an Information Resources Assistant for the William L. Clements Library. In the morning I'm at my desk greeting people and answering phones. In the afternoon I'm the Reading Room Supervisor.
Background
I have worked at the Clements Library since 2004.
Responsibilities
In the morning I greet visitors, researchers, and volunteers. I assemble mass mailings and handle all outgoing mail. Also I, direct phone calls to the appropriate personnel. In the afternoon as Reading Room Supervisor I assist researchers and initiate contact with the appropriate curator, when needed. I also process manuscript collections when not occupied with researchers and work with Development on donor information service projects.