Case 14: Minden~Ferdinand~August 1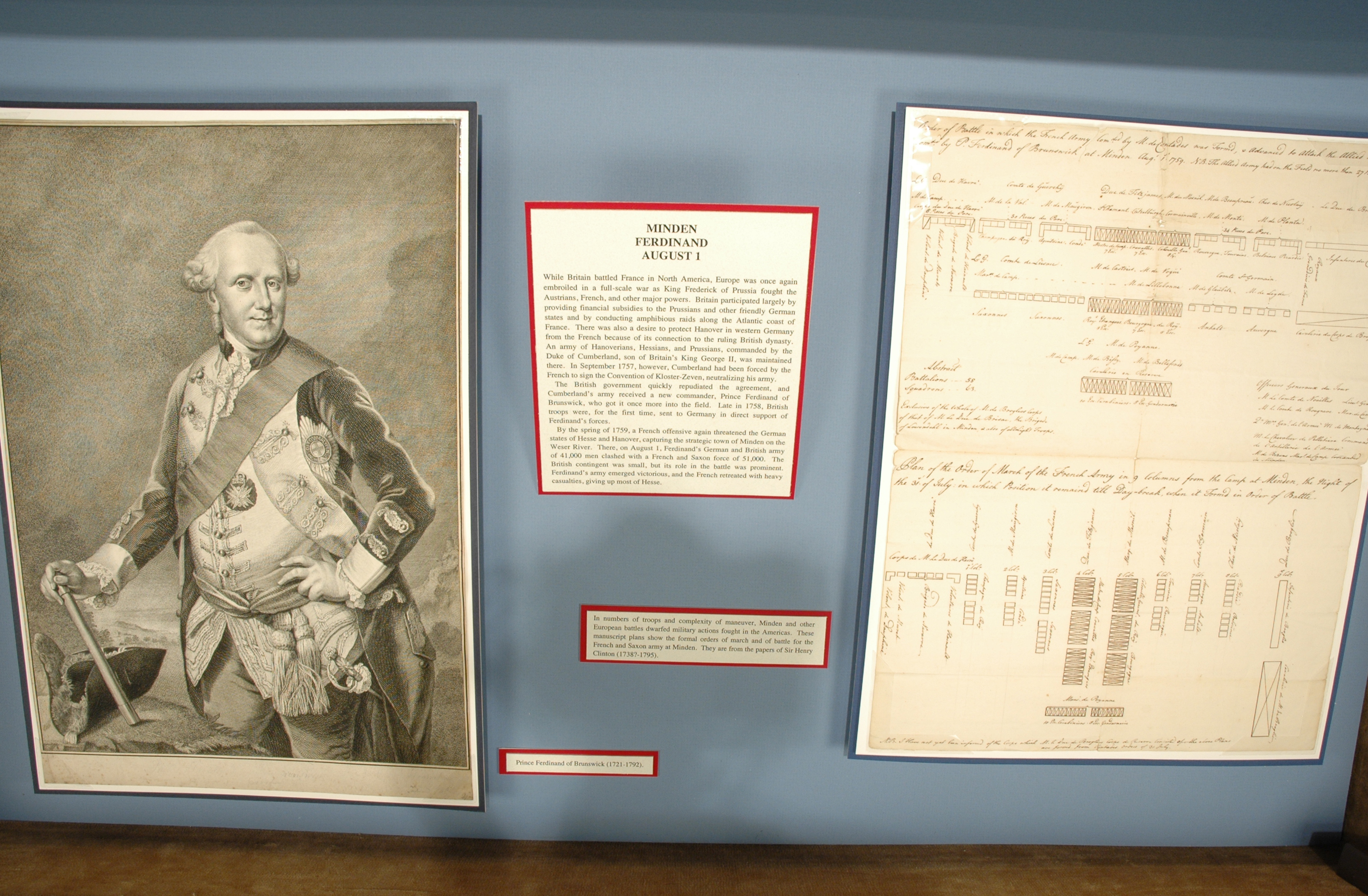 While Britain battled France in North America, Europe was once again embroiled in a full-scale war as King Frederick of Prussia fought the Austrians, French, and other major powers.  Britain participated largely by providing financial subsidies to the Prussians and other friendly German states and by conducting amphibious raids along the Atlantic coast of France.  The protection of Hanover in western Germany was important because of its connection to the ruling British dynasty.  An army of Hanoverians, Hessians, and Prussians, commanded by the Duke of Cumberland (1721-1765), son of Britain's King George II, was maintained there following the declaration of war.  In September 1757, however, Cumberland had been forced by the French to sign the Convention of Kloster-Zeven, neutralizing his army.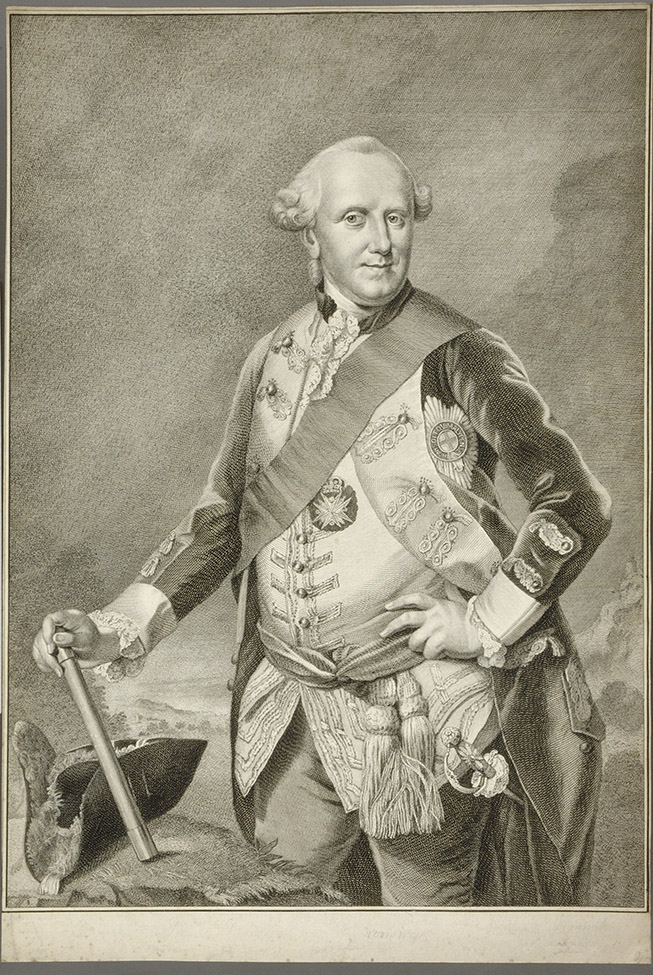 [Ferdinand, Prince of Brunswick-Wolfenbüttel]. Copperplate engraving. [London?], ca. 1759. Graphics Division, Prints C-1.
The British government quickly repudiated the convention. Prince Ferdinand of Brunswick-Wolfenbüttel (1721-1792) assumed command of Cumberland's army and got it once more into the field.  Late in 1758 British troops were, for the first time, sent to Germany in direct support of Ferdinand's forces.
Ordre de l'Armé des Allies sous la Commendement de Duc Ferdinand de Brunswig Wolfenbuttel 1759.  Hand-colored copperplate engraving. [Augsburg], 1759. In Georg Christoph Kilian (1709-1781), Theatre de Guerre en Allemange de A. 1756, 1757, 1758, 1759. Augsburg, [1760?]. Map Division, Atl2 1760 Ki.
Ferdinand's allied army represented several German states.  It incorporated the British contingent, identified in this colorful order of battle as "Engl Infant" or simply "Engl" or Engle" in the front line.  British cavalry is at the far right of the first rank ("Engl Chevaux Legers" – light horse) and as "Engl Cuirwaade" (heavy cavalry) at the right of the second line.  Lord Sackville is identified as the English commander.
James McAidell (1729-1765), engraver, after Joshua Reynolds (1723-1792), The Right Honble Lord George Sackville Lieutenant General of His Majesty's Forces . . . Commander in Chief of the British Forces on the Lower Rhine.  Mezzotint, London, 1759. Graphics Division, Prints _____.
The military career of George Germain, 1st Viscount Sackville (1716-1785), ended with the Battle of Minden.  Ordered by Ferdinand to have the British cavalry charge the French at a critical moment in the fighting, Sackville disobeyed by withholding them.  He was charged with disobedience of orders, cashiered from the army, and court martialed.  He turned to politics and was later a prominent figure in the coming of the American Revolution.
Plan de la Bataille pres de Minden entre les Francois et les Allies le 1 Aout 1759. Hand-colored copperplate engraving. [Augsburg], 1759. In Georg Christoph Kilian (1709-1781), Theatre de Guerre en Allemange de A. 1756, 1757, 1758, 1759. Augsburg, [1760?]. Map Division, Atl2 1760 Ki.
By the spring of 1759, a French offensive again threatened the German states of Hesse and Hanover and captured the strategic town of Minden on the Weser River.  There, on August 1, Ferdinand's German and British army of 41,000 men clashed with a French and Saxon force of 51,000 under the Marquis de Contades (1704-1795).  The British contingent was small, but its role in the battle was prominent.  Ferdinand's army emerged victorious, and the French retreated with heavy casualties, giving up most of Hesse.
"Order of Battle in which the French Army Comded by M. de Contades was Form'd, & Advanced to Attack the Allied Army . . . at Minden Aug 1st 1759." Pen and ink on paper, [1759]. Manuscripts Division, Henry Clinton Papers, 1:12.
In numbers of troops and complexity of maneuvers, Minden and other European battles dwarfed any military action fought in the Americas.  These manuscript plans show the formal orders of march and of battle for the French and Saxon army at Minden.  They are from the papers of Sir Henry Clinton (1738?-1795).
The Battle of Minden in Westphalia 1st Augst 1759. Copperplate engraving in The Field of Mars: being an Alphabetical Digestion of the Principal Naval and Military Engagements in Europe, Asia, Africa, and America, Particularly of Great Britain and her Allies from the Ninth Century to the Peace of 1801. London, 1801. Book Division, C2 1801 Fi.
Although published forty years after Minden, this print conveys a sense of the massive bodies of troops that clashed in Germany and the chaos of a set-piece battle.