Conservation of the Thomas Gage Papers (1754-1807), Vol. 35 (American Series), 1765 April 23 – May 11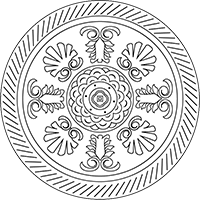 Conservation of the Thomas Gage Papers (1754-1807), Vol. 35 (American Series), 1765 April 23 – May 11
---
Conservation, Manuscripts
A brief description of content in Volume 35, correspondence dating from April 23 to May 11, 1765:
Major Robert Farmar, Major Loftus, and George Johnstone have an administrative conflict in West Florida over authority over the military in the colony
Several courts of enquiry are held at Detroit regarding the relationship of French settlers with local Indians
A survey of public buildings is conducted in Albany, and plans to tear down and relocate several structures are made
British military officials have difficulty getting the full cooperation of civil governing powers in Canada
Major Robert Farmar holds an Indian congress at Mobile
Special Notes About this Grouping
Documentation from a military court of inquiry lays bare the complicated and contested terrain of western lands in 1765. References to the English, French, Native Americans, and African Americans demonstrate how military entanglements in the region crossed both racial and imperial lines.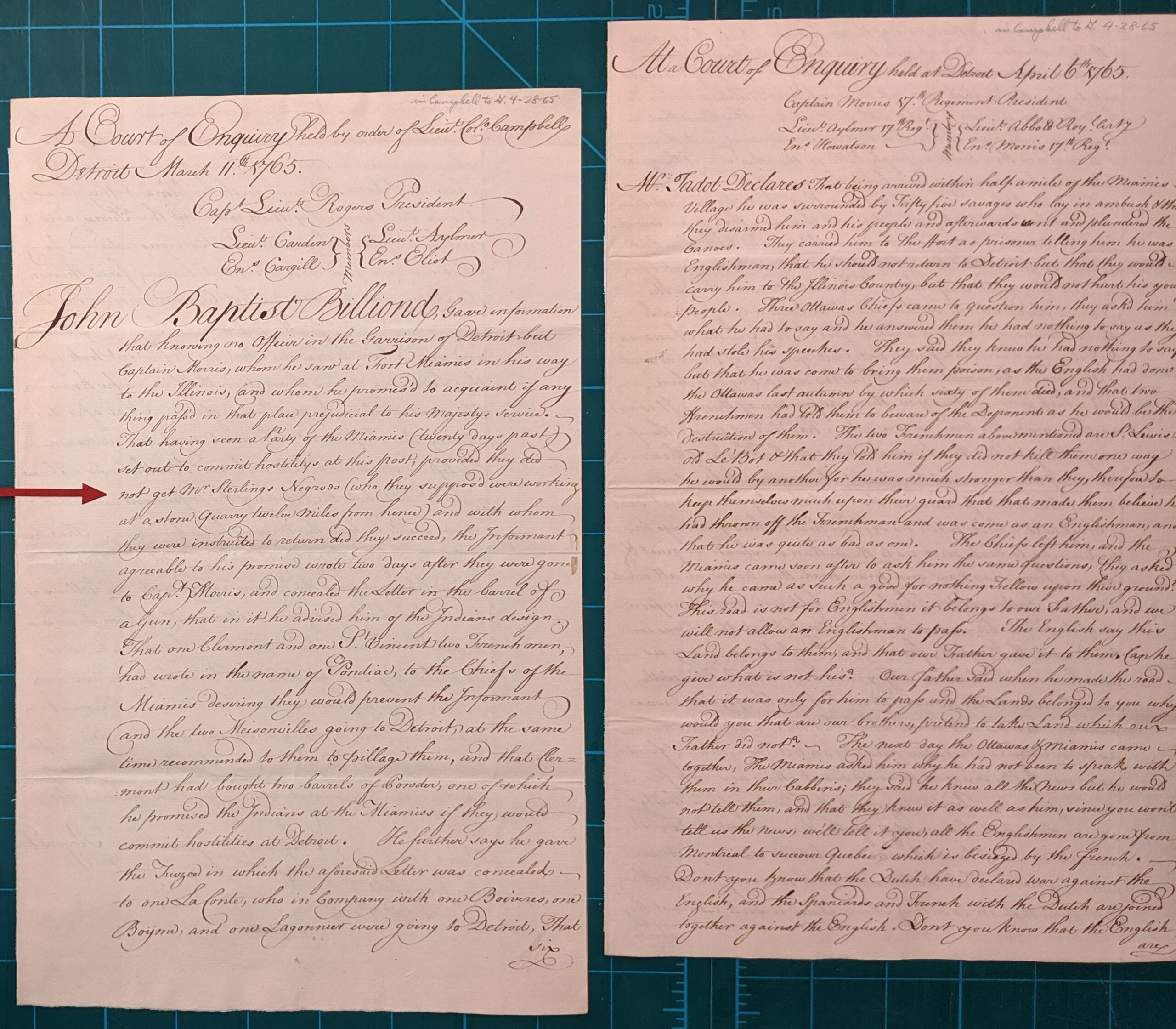 Court of Enquiry records from Detroit, March 11, March 16 and April 6, 1765. "… That having seen a Party of the Miamis (twenty days past) set out to commit hostilitys at this post… the Informant agreeable to his promise wrote two days after they were gone to Capt. Morris, and concealed the Letter in the barrel of a Gun, that in it he advised him of the Indians design."
The records were enclosed in correspondence to General Gage on April 28, 1765.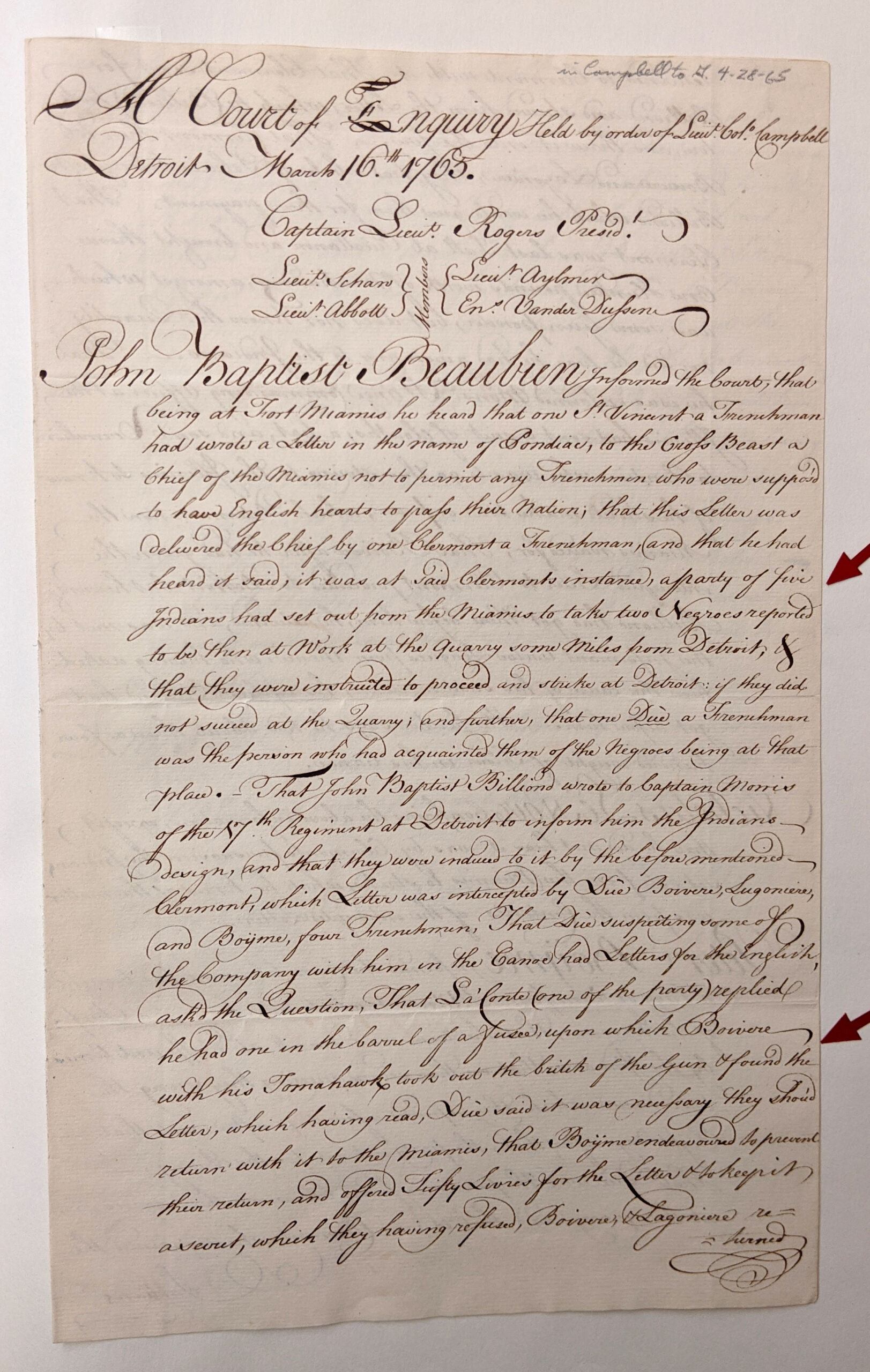 "John Baptist Beaubien Informed the Court, that being at Fort Miamis he heard that one St. Vincent a Frenchman had wrote a Letter in the name of Pontiac, to the Gross Beast a Chief of the Miamis not to permit any Frenchman who were suppos'd to have English hearts to pass their nation… and that he had heard it said…." that five Native Americans set out from the Miamis to take two persons of African descent "reported to be then at work at the quarry some miles from Detroit, & that they were instructed to proceed and strike at Detroit…"
We are seeking contributors to help offset the costs of unhinging and re-boxing approximately 23,000 manuscripts in 172 volumes from the Thomas Gage Papers. Conservator Julie Fremuth will remove each manuscript from the paper on which it is currently mounted and other staff will place the manuscripts into new archival boxes and folders. A donation of $175 will support the unhinging and re-housing of one volume of the Thomas Gage Papers.
The Thomas Gage papers consist of the military and governmental correspondence and headquarter papers of General Thomas Gage, officer in the British Army in America (1754-1763) and commander-in-chief of the British forces in North America between 1763 and 1775. The papers include incoming correspondence and retained copies of letters written by Gage, together with a large quantity of documents related to military matters and manuscript maps. The collection is particularly strong in documenting British administration of North America after the French and Indian War, interactions with Native Americans, and the years preceding the American Revolution.