McGiben Family Band Cabinet Card. Undated.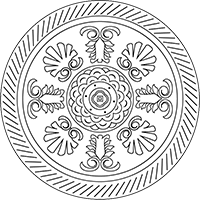 Cabinet Card Photograph of McGiben Family Band by photographer F. Gutenkunst, 712 Arch St., Philadelphia. Undated.
Before the age of recorded music, local musical performances were very common across America. Various brass, string, percussion, and vocal combinations were popular, however brass bands had the great advantage of being loud enough to be heard outdoors or in a crowded ballroom. Traveling families of performers were also very common. Documentation of many of these groups appears only in newspaper and magazine commentary and in the promotional materials produced by the performers themselves. This cabinet photograph of the McGiben Family Band is an example. Photos like this were likely distributed in advance of an appearance or at performances.
We have yet to find anything about the McGiben family, however the photographer, Frederick Gutekunst of Philadelphia, ran one of the nation's most successful portrait studios and captured the likenesses of many stars of his day.