Panseron, Pierre. Etude pour le Lavis. Paris, 1781. Colored copperplate engraving.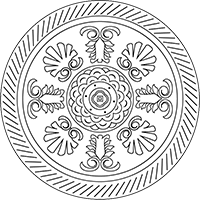 [Pierre Panseron]. Ėtude pour le Lavis . . . [Paris, 1781]. Colored copperplate engraving.
Panseron was a successful landscape designer in late-eighteenth-century France. In 1781 he published this guide to accepted and relatively standardized representations and colors to be used in topographical drawings. Contemporary renderings of topography, fortifications, and cities often have a uniform appearance, and for this imaginary landscape Panseron drew on traditional practices. This piece was highlighted in Occassional Bulletin No. 4 produced by the Clements Library.