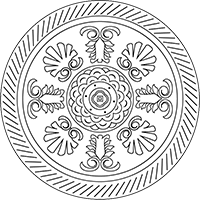 Emiko Hastings
Curator of Books and Digital Projects Librarian
Pronouns
| she/her/hers
---
I am the Curator of Books and Digital Projects Librarian at the Clements Library. I am also a member of the American Library Association's Rare Books and Manuscripts Section (RBMS). My interests include the history of the book in America, women book collectors, library history, and 19th century American history.
Background
I began working at the Clements Library in September 2007 and have been the Curator of Books since June 2009. I obtained my M.S.I degree from the University of Michigan School of Information and my B.A. degree in history from Whitman College.
Responsibilities
As curator, I manage the operations of the Book Division and work with the Rare Book Cataloger to set cataloging policies and procedures. My responsibilities include purchasing books for the collection; giving class presentations about the library's primary source materials; assisting researchers with the book collection; setting cataloging policies; and overseeing management of the rare book collection. As digital projects librarian, I manage our digitization projects. I am also responsible for updating library website content and maintaining the Clements Library Chronicles, the Library's news and information blog.