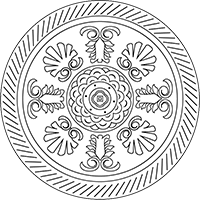 80,000 books, pamphlets,
broadsides, and periodicals
The Book Division of the William L. Clements Library cares for a collection of printed Americana containing approximately 80,000 books, pamphlets, broadsides, and periodicals.
These holdings are further supplemented by subject collections like the Medler Crime Collection, Schoff Civil War Collection, and the Jesuit Relations, and biographical collections centering on works by or about Christopher Columbus, Thomas Paine, Benjamin Franklin, George Washington, Abraham Lincoln, and Theodore Roosevelt. Broadsides, government documents, newspapers, and periodicals are kept in separate classifications.
Areas of greatest strength include early printed accounts of discovery and exploration, the colonization of North America, colonial American imprints, and the American Revolution.
The book collections are also rich in subjects such as:
African American history
Education
Native American history
Politics
Religion
Sermons and orations
Slavery and anti-slavery
The West Indies
Women's history
All Book Division records can be searched in U-M Library Catalog Search, the online catalog of the University of Michigan library system. Select "William L. Clements Library" to retrieve only Clements Library holdings. Our holdings can also be found in WorldCat, a global catalog of library collections.
The book collection of the Clements Library had its origin in the collecting activities of William L. Clements (1861-1934). Mr. Clements began his Americana collecting in 1903 with the purchase of the small but impressive collection of Civil War veteran and Bay City merchant, Aaron J. Cooke.
After becoming a Regent of the University in 1909, Mr. Clements made contacts with book dealers Lathrop C. Harper of New York and Henry N. Stevens of London, who helped guide his collecting activities into the period of exploration and discovery, the first settlements in North America, and the American Revolution. These became the strengths of the book collection that Mr. Clements donated to the University of Michigan in 1923.
Since the founding of the Library, the book collection has broadened in scope and more than tripled in size. In keeping with Mr. Clements' original vision, the Library has continued to collect primary source books in subject areas related to American history, expanding into the 19th century and encompassing many new areas of study such as the Civil War, social history, and racial and ethnic history.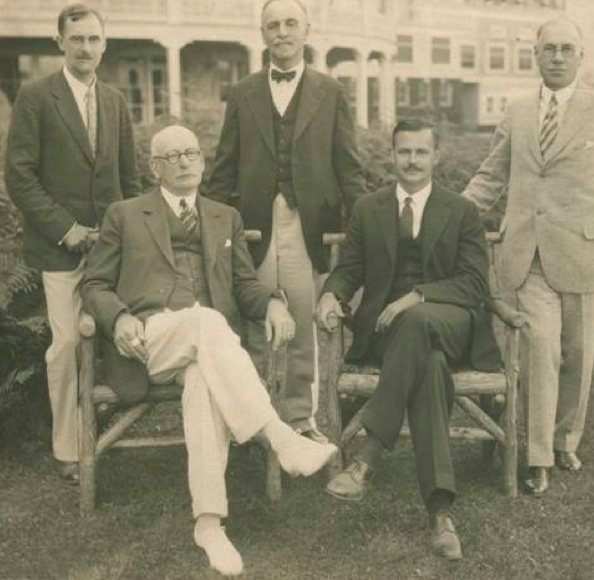 William L. Clements (seated at left) with George Parker Winship, Junius E. Beal, and Walter H. Sawyer (standing) and Clarence Cook Little (seated at right).