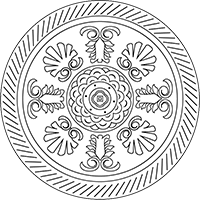 Heather Alphonso
Clerk
halphons@umich.edu | 734-764-2347
Pronouns
| she/her/hers
---
I am the Library Clerk at the Clements. I work at the reception desk and assist various departments within the library.
Background
I graduated from the University of Michigan with a BA in the History of Art. I have been a docent at the University of Michigan Museum of Art working mostly with K-12 students. I'm very interested in making museums and libraries accessible and welcoming to visitors of all ages. I started working at the Clements Library in February of 2023.
Responsibilities
I greet visitors to the Clements, answer phones and maintain the logs of all the people who go in and out of the building including staff, researchers, and volunteers. I help with events, perform office tasks and work with the Development office and curatorial divisions on various projects including accessioning and entering information and correspondences.