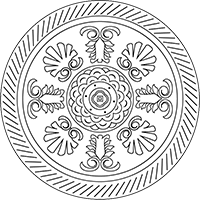 Maggie Vanderford
Librarian for Instruction and Engagement
mhappe@umich.edu | 734-764-2347
Pronouns
| she/her/hers
---
I am the Librarian for Instruction and Engagement at the William L. Clements Library. I coordinate the teaching program at the Clements by working closely with university faculty and staff to integrate our collections into curricula. I also oversee the fellowship program and work to raise awareness of the Clements as a unique educational resource for the University of Michigan and community beyond.
Background
Prior to coming to the University of Michigan, I obtained my B.A. from Creighton University, my M.A. in English from the University of Arizona, and am completing my PhD in English from UCLA. I have experience in a wide variety of university library departments at UA and UCLA, including print monograph acquisitions and undergraduate research services. At the William Andrews Clark Library (Los Angeles), I specialized in instruction and outreach programming, and have developed innovative classes in a variety of library and academic settings. I have published bibliographic catalogues, journal articles, ebooks, and more on various subjects including 18th-century literature, disability studies, descriptive bibliography, historic food studies, and transatlantic medical history.
Responsibilities
I work with the Director and library staff to deepen the library's engagement with the teaching, research, and community engagement mission of the university. This includes the oversight of our fellowship program for visiting scholars, the coordination of our instruction partnerships with faculty across the university, and the support of our collaborations with all academic classes, programs, and workshops. I also aim to enrich the quality of our inclusive and diverse teaching processes, ensuring that the Clements is a space where all are welcome and access to our materials is increasingly equitable and open.