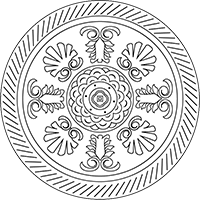 Mary Sponberg Pedley
Assistant Curator of Maps
mpedley@umich.edu | 734-764-2347
I help the Map Curator with various aspects of caring for and maintaining the map collection and answer reference questions concerning maps and the history of cartography.
Background
I have been associated with the Clements Library since 1984. My undergraduate degree is in Classical Studies (Greek and Latin) and my Ph.D. is in Geography from the University of London. My own research interests focus on map production and commerce in 18th century France and England. I am also the Associate Editor of Imago Mundi: The International Journal of the History of Cartography, and Co-Editor of The History of Cartography, Volume Four: Cartography in the European Enlightenment (The University of Chicago Press).
Responsibilities
As the Assistant Map Curator, I help with the maintenance and expansion of our map collection. This includes researching and publishing information about maps in our collection, answering questions from readers and the public at large about our maps, and maintaining our bibliography collection on the history of cartography. I also perform outreach activities by giving lectures, writing articles, consulting with university faculty about collection use, and helping students and visiting scholars.