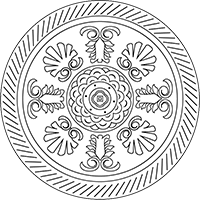 Paul J. Erickson
Randolph G. Adams Director of the Clements Library
pjerick@umich.edu | 734-647-0704
Pronouns
| he/him/his
---
I became Director of the Clements Library in January 2020. It's a tremendous honor to be part of the talented team at the Clements Library, helping make our marvelous collections available to the University of Michigan community as well as interested scholars across Michigan and around the world.
Background
I am a native of Minnesota, and received a B.A. in English from the University of Chicago and an M.A. and Ph.D. in American Studies from the University of Texas at Austin. My work experience has included stints in publishing, the non-profit sector, and management consulting, as well as the special collections library world. From 2007 to 2016 I served as Director of Academic Programs at the American Antiquarian Society, a research library of early American history and culture located in Worcester, MA. From 2016 through 2019 I was Program Director for Humanities, Arts & Culture and American Institutions, Society & the Public Good at the American Academy of Arts & Sciences in Cambridge, MA. My own research interests lie in the literature and culture of antebellum America, with a particular focus on cheap print culture and sensationalism. I have written and lectured widely on antebellum urban fiction, print culture, the history of the book, the role of research libraries in the digital age, and how to apply for research fellowships.
Responsibilities
I work with all staff members at the Clements Library to build the collections, make them more easily accessible to students and faculty on campus and around the world, and encourage new disciplinary approaches to our holdings. With colleagues at the Clements and the Board of Governors of the Clements Library Associates, I work to broaden the base of support for the Clements Library. And with colleagues across the University of Michigan community, I work to make the Clements Library a vibrant hub for humanities scholarship in Ann Arbor.