In Service for our Citizenship: Black Civil War Soldiers
"Once let the black man get upon his person the brass letters U.S., let him get an eagle on his button, and a musket on his shoulder, and bullets in his pocket, and there is no power on earth or under the earth that can deny he has earned the right to citizenship."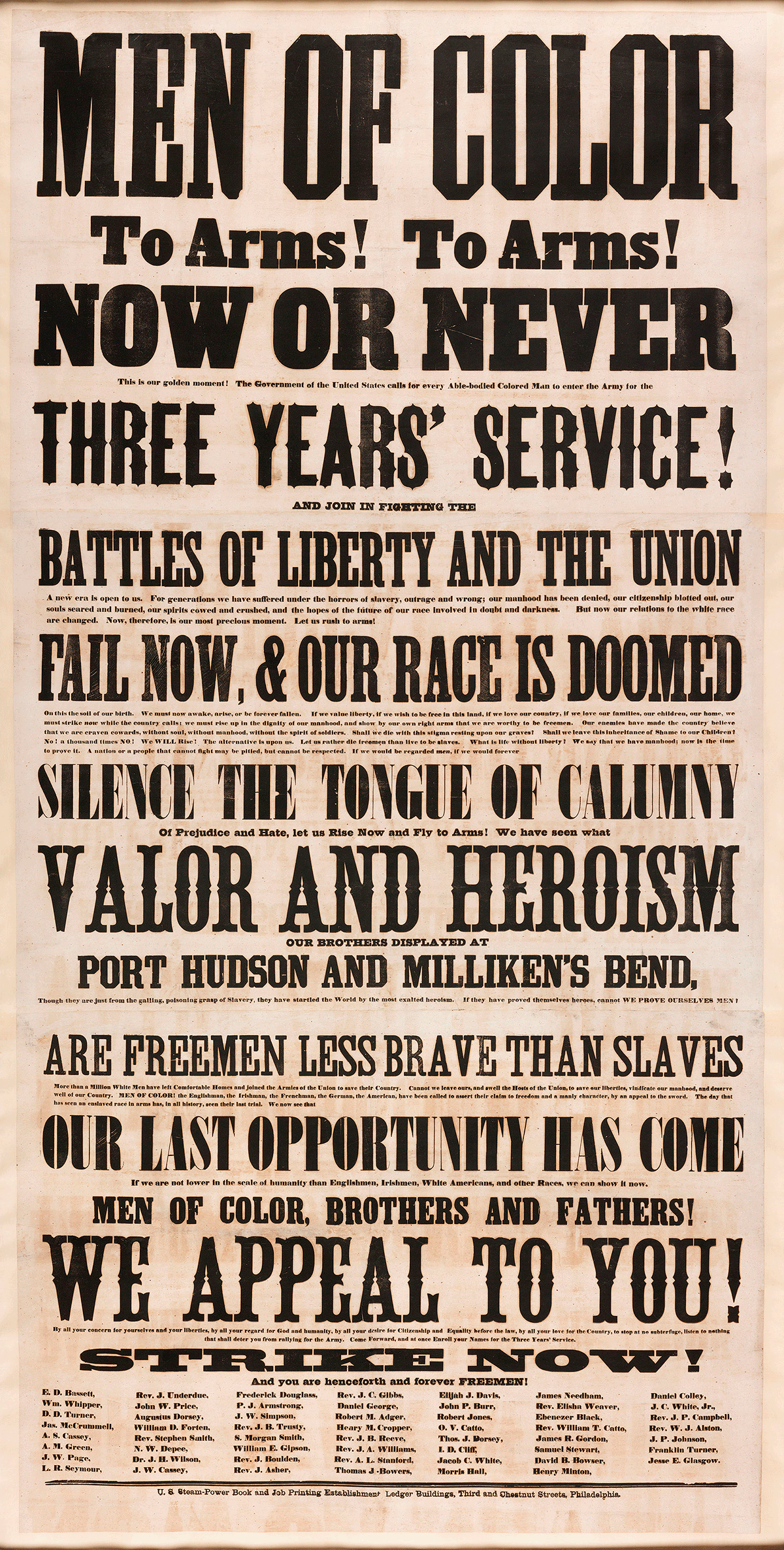 Broadside for "Men of Color" Recruitment
Written By Frederick Douglass.
1863.
Frederick Douglass actively spoke about the importance of Black men joining the ranks of the military to earn their citizenship.  A federal law written in 1792 prohibiting Black men from serving in the U.S. Army prevented free Black men and formerly enslaved men from volunteering for the Union Army during the Civil War.  On July 17, 1862, Congress passed the Second Confiscation and Militia Act for the enlistment of Black men, but official enrollment occurred only after the Emancipation Proclamation of January 1st, 1863.  Black men were slow to respond to the call until Frederick Douglass and other Black leaders encouraged men to enlist to assert their rights to citizenship.  Black women also volunteered to serve unofficially for the Union Army as nurses and scouts.
Broadside image courtesy of Collection of the Smithsonian National Museum of African American History and Culture.
Tintypes in header image courtesy of William A. Gladstone collection of African American photographs, Library of Congress.
Two Brothers in Arms. 
1860 – 1870.
Photograph of two African American Union Soldiers, possibly brothers, Baldy Guy (left) and George Guy.
Image courtesy of William A. Gladstone collection of African American photographs, Library of Congress.
Sergeant George Smith, Co. I, 2nd U.S. Colored Cavalry. 
1863.
The 2nd United States Colored Infantry was a regiment authorized by the United States War Department: Bureau of Colored Troops and organized at Fort Monroe, Virginia from December 22, 1863 to January 8, 1864.
Clements Library.
Susie King Taylor, known as the first African American Army nurse. 
1863.
Susie King Taylor served for more than three years as nurse with the 33rd U.S. Colored Troops Infantry Regiment during the American Civil War.  She was officially enrolled as a laundress for the regiment, but performed various duties including teaching children and adults how to read in addition to nursing.
Image courtesy of Liljenquist Family Collection of Civil War Photographs, Library of Congress.