Case 11: The North – 1813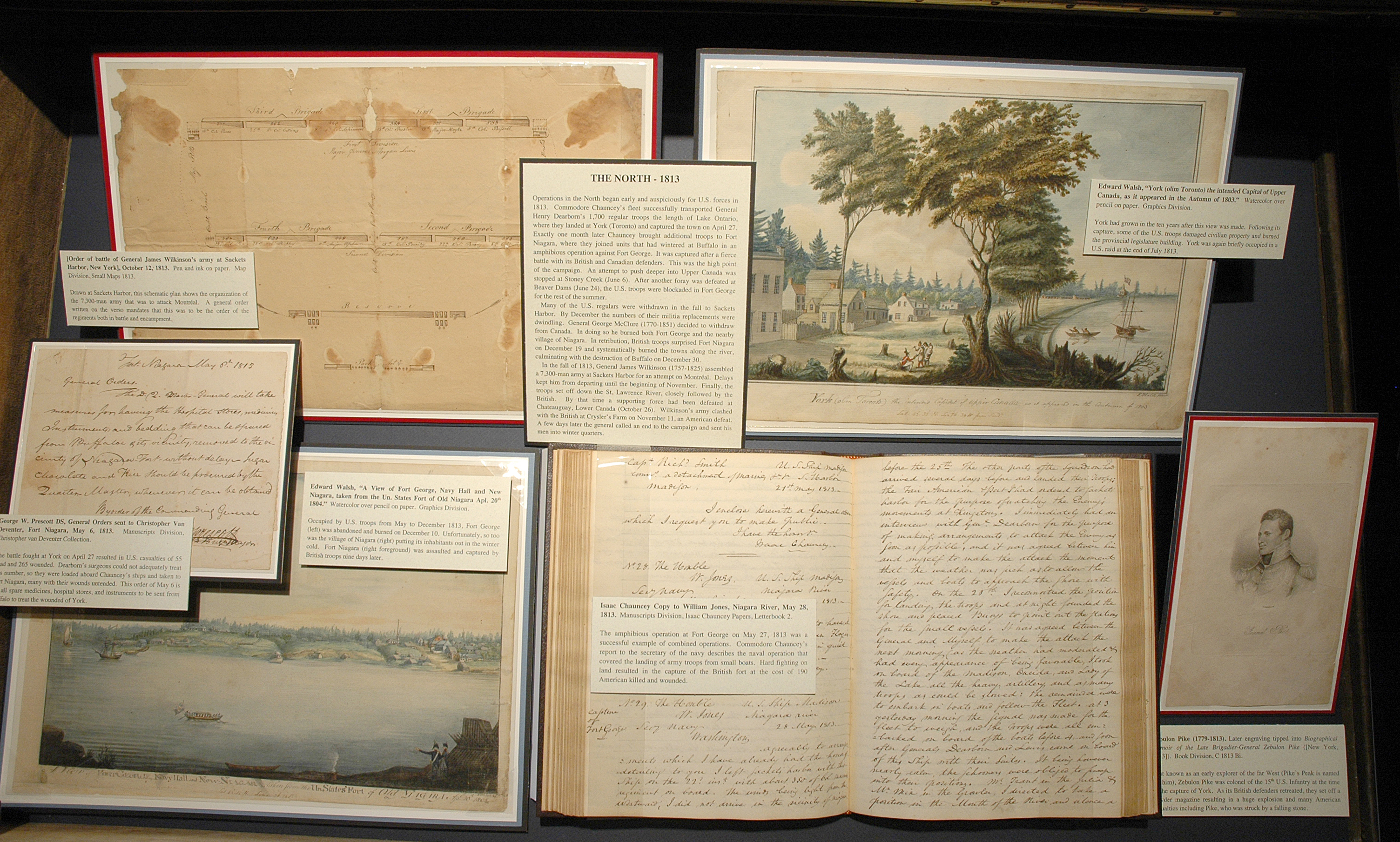 Operations in the North began early and auspiciously for U.S. forces in 1813.  Commodore Chauncey's fleet successfully transported General Henry Dearborn's 1,700 regular troops the length of Lake Ontario, where they landed at York (Toronto) and captured the town on April 27.  Exactly one month later Chauncey brought additional troops to Fort Niagara, where they joined units that had wintered at Buffalo in an amphibious operation against Fort George.  It was captured after a fierce battle with its British and Canadian defenders.  This was the high point of the campaign.  An attempt to push deeper into Upper Canada was stopped at Stoney Creek (June 6).  After another foray was defeated at Beaver Dams (June 24), the U.S. troops were blockaded in Fort George for the rest of the summer.
Many of the U.S. regulars were withdrawn in the fall to Sackets Harbor.  By December the numbers of their militia replacements were dwindling.  General George McClure (1770-1851) decided to withdraw from Canada.  In doing so he burned both Fort George and the nearby village of Niagara.  In retribution, British troops surprised Fort Niagara on December 19 and systematically burned the towns along the river, culminating with the destruction of Buffalo on December 30.
In the fall of 1813, General James Wilkinson (1757-1825) assembled a 7,300-man army at Sackets Harbor for an attempt on Montréal.  Delays kept him from departing until the beginning of November.  Finally, the troops set off down the St, Lawrence River, closely followed by the British.  By that time a supporting force had been defeated at Chateauguay, Lower Canada (October 26).  Wilkinson's army clashed with the British at Crysler's Farm on November 11, an American defeat.  A few days later the general called an end to the campaign and sent his men into winter quarters.
Zebulon Pike (1779-1813). Later engraving tipped into Biographical Memoir of the Late Brigadier-General Zebulon Pike ([New York, 1813]).  Book Division, C 1813 Bi.
Best known as an early explorer of the far West (Pike's Peak is named for him), Zebulon Pike was colonel of the 15th U.S. Infantry at the time of the capture of York.  As its British defenders retreated, they set off a powder magazine resulting in a huge explosion and many American casualties including Pike, who was struck by a falling stone.
Isaac Chauncey Copy to William Jones, Niagara River, May 28, 1813.  Manuscripts Division, Isaac Chauncey Papers, Letterbook 2.
The amphibious operation at Fort George on May 27, 1813 was a successful example of combined operations.  Commodore Chauncey's report to the secretary of the navy describes the naval operation that covered the landing of army troops from small boats.  Hard fighting on land resulted in the capture of the British fort at the cost of 190 American killed and wounded.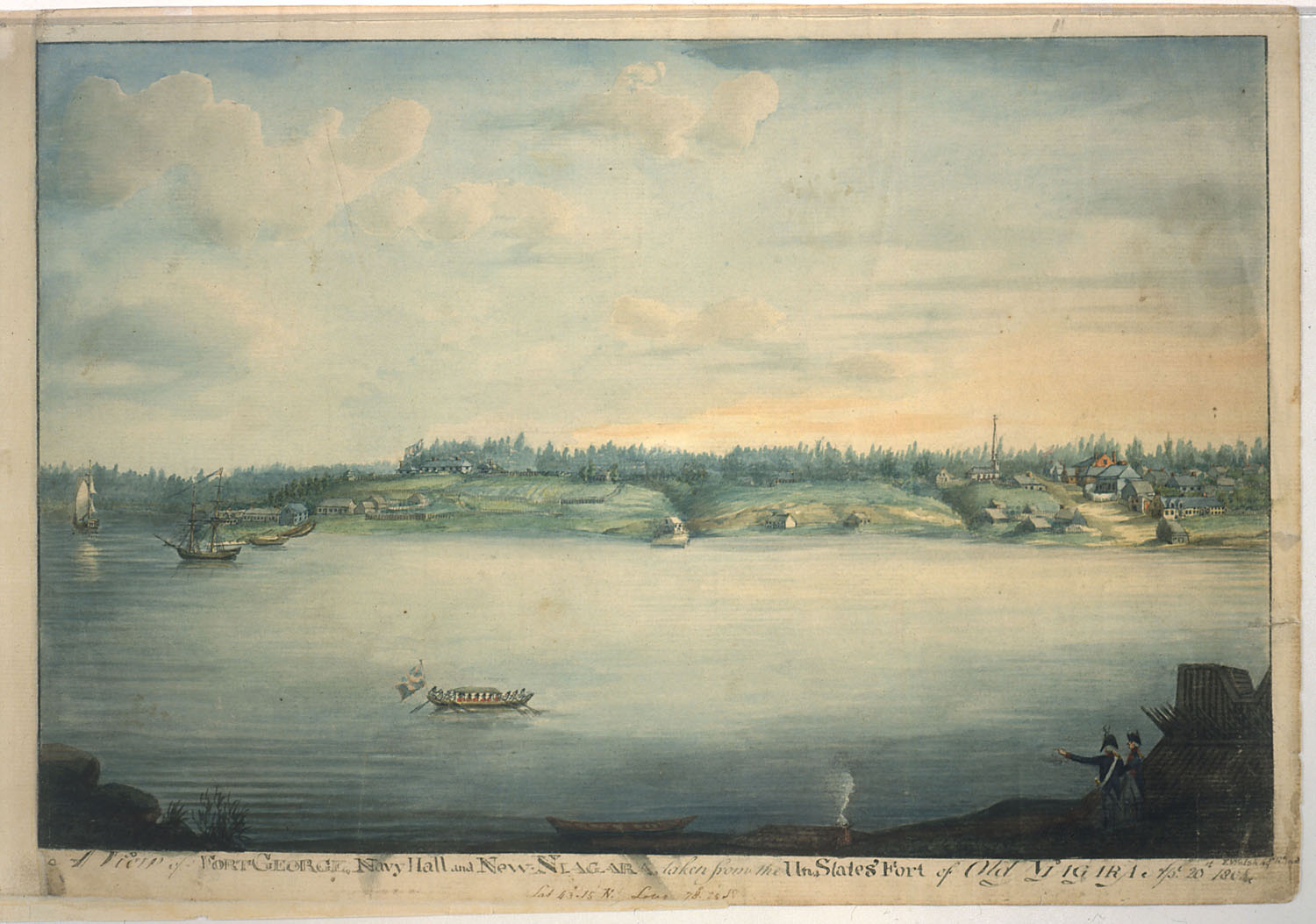 Edward Walsh, "A View of Fort George, Navy Hall and New Niagara, taken from the Un. States Fort of Old Niagara Apl. 20th 1804."  Watercolor over pencil on paper.  Graphics Division.
Occupied by U.S. troops from May to December 1813, Fort George (left) was abandoned and burned on December 10.  Unfortunately, so too was the village of Niagara (right) putting its inhabitants out in the winter cold.  Fort Niagara (right foreground) was assaulted and captured by British troops nine days later.
Edward Walsh, "York (olim Toronto) the intended Capital of Upper Canada, as it appeared in the Autumn of 1803."  Watercolor over pencil on paper.  Graphics Division.
York had grown in the ten years after this view was made.  Following its capture, some of the U.S. troops damaged civilian property and burned the provincial legislature building.  York was again briefly occupied in a U.S. raid at the end of July 1813.
[Order of battle of General James Wilkinson's army at Sackets Harbor, New York], October 12, 1813.  Pen and ink on paper.  Map Division, Small Maps 1813.
Drawn at Sackets Harbor, this schematic plan shows the organization of the 7,300-man army that was to attack Montréal.  A general order written on the verso mandates that this was to be the order of the regiments both in battle and encampment.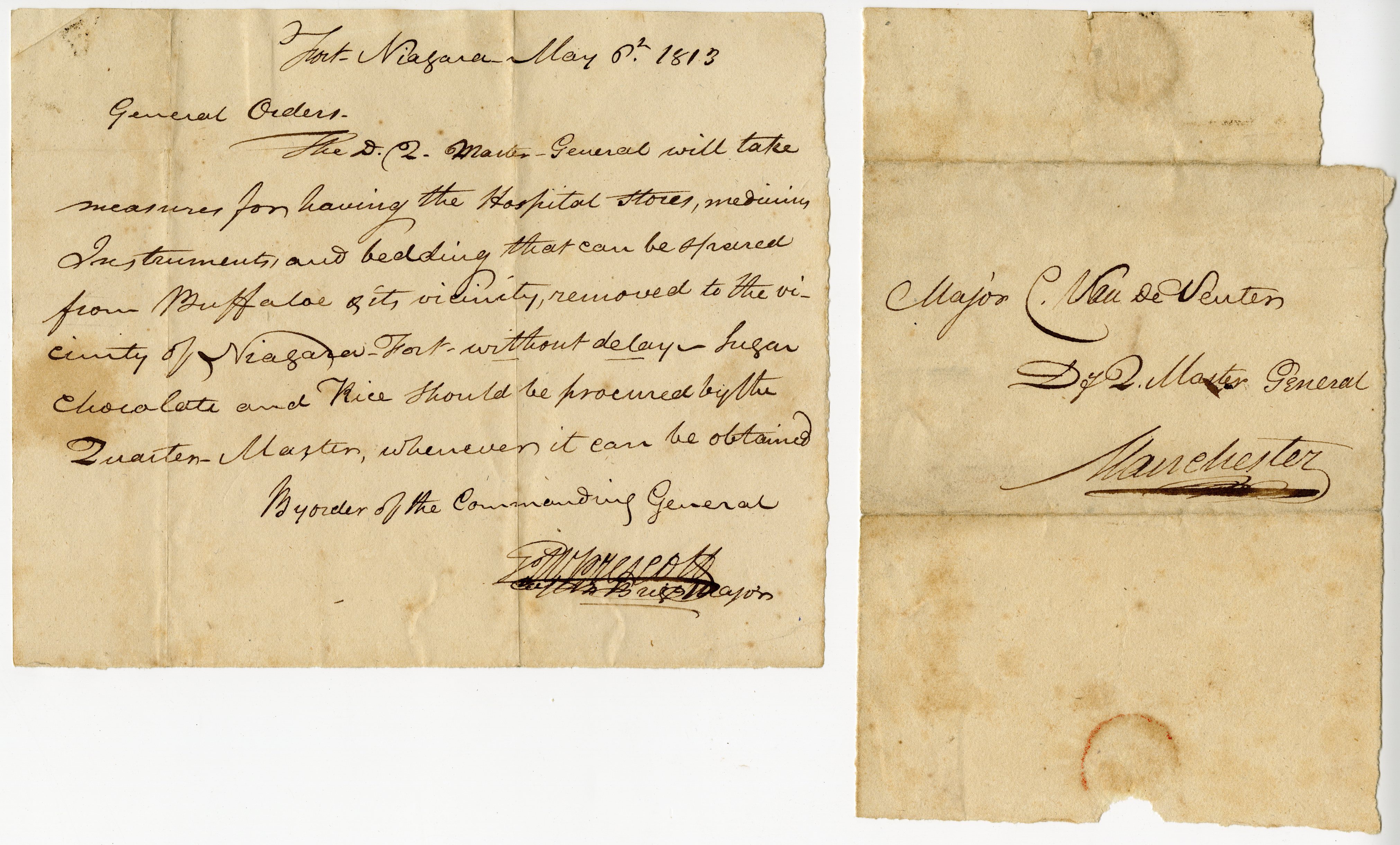 George W. Prescott DS, General Orders sent to Christopher Van Deventer, Fort Niagara, May 6, 1813.  Manuscripts Division, Christopher van Deventer Collection.
The battle fought at York on April 27 resulted in U.S. casualties of 55 dead and 265 wounded.  Dearborn's surgeons could not adequately treat this number, so they were loaded aboard Chauncey's ships and taken to Fort Niagara, many with their wounds untended.  This order of May 6 is for all spare medicines, hospital stores, and instruments to be sent from Buffalo to treat the wounded of York.