Case 9: Ontario and Champlain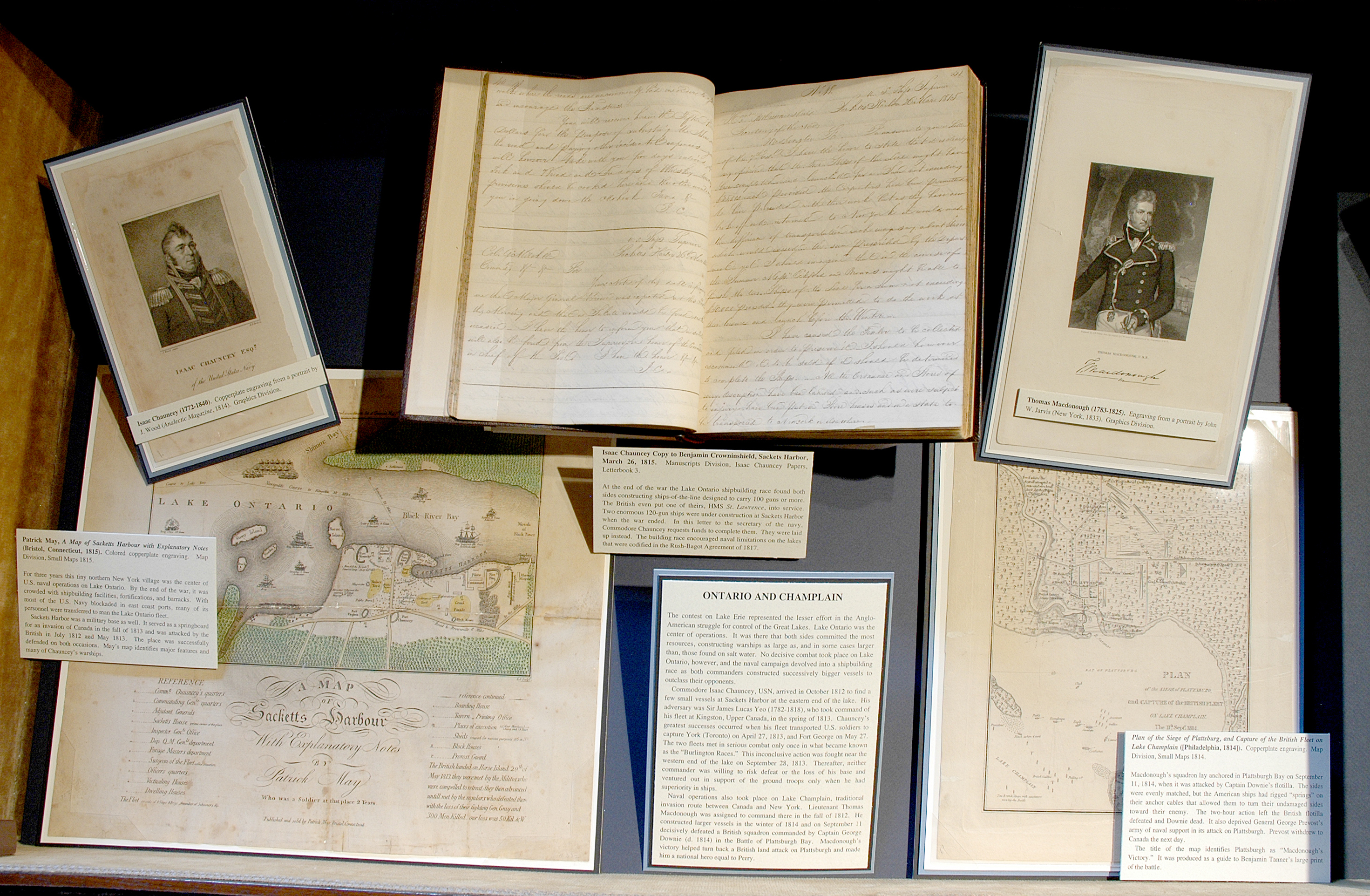 The contest on Lake Erie represented the lesser effort in the Anglo-American struggle for control of the Great Lakes.  Lake Ontario was the center of operations.  It was there that both sides committed the most resources, constructing warships as large as, and in some cases larger than, those found on salt water.  No decisive combat took place on Lake Ontario, however, and the naval campaign devolved into a shipbuilding race as both commanders constructed successively bigger vessels to outclass their opponents.
Commodore Isaac Chauncey, USN, arrived in October 1812 to find a few small vessels at Sackets Harbor at the eastern end of the lake.  His adversary was Sir James Lucas Yeo (1782-1818), who took command of his fleet at Kingston, Upper Canada, in the spring of 1813.  Chauncey's greatest successes occurred when his fleet transported U.S. soldiers to capture York (Toronto) on April 27, 1813, and Fort George on May 27.  The two fleets met in serious combat only once in what became known as the "Burlington Races."  This inconclusive action was fought near the western end of the lake on September 28, 1813.  Thereafter, neither commander was willing to risk defeat or the loss of his base and ventured out in support of the ground troops only when he had superiority in ships.
Naval operations also took place on Lake Champlain, traditional invasion route between Canada and New York.  Lieutenant Thomas Macdonough was assigned to command there in the fall of 1812.  He constructed larger vessels in the winter of 1814 and on September 11 decisively defeated a British squadron commanded by Captain George Downie (d. 1814) in the Battle of Plattsburgh Bay.  Macdonough's victory helped turn back a British land attack on Plattsburgh and made him a national hero equal to Perry.
Isaac Chauncey (1772-1840).  Copperplate engraving from a portrait by J. Wood (Analectic Magazine, 1814).  Graphics Division.
Thomas Macdonough (1783-1825).  Engraving from a portrait by John W. Jarvis (New York, 1833).  Graphics Division.
Isaac Chauncey Copy to Benjamin Crowninshield, Sackets Harbor, March 26, 1815.  Manuscripts Division, Isaac Chauncey Papers, Letterbook 3.
At the end of the war the Lake Ontario shipbuilding race found both sides constructing ships-of-the-line designed to carry 100 guns or more.  The British even put one of theirs, HMS St. Lawrence, into service.  Two enormous 120-gun ships were under construction at Sackets Harbor when the war ended.  In this letter to the secretary of the navy, Commodore Chauncey requests funds to complete them.  They were laid up instead.  The building race encouraged naval limitations on the lakes that were codified in the Rush-Bagot Agreement of 1817.
Patrick May, A Map of Sacketts Harbour with Explanatory Notes (Bristol, Connecticut, 1815). Colored copperplate engraving.  Map Division, Small Maps 1815.
For three years this tiny northern New York village was the center of U.S. naval operations on Lake Ontario.  By the end of the war, it was crowded with shipbuilding facilities, fortifications, and barracks.  With most of the U.S. Navy blockaded in east coast ports, many of its personnel were transferred to man the Lake Ontario fleet.
Sackets Harbor was a military base as well.  It served as a springboard for an invasion of Canada in the fall of 1813 and was attacked by the British in July 1812 and May 1813.  The place was successfully defended on both occasions.  May's map identifies major features and many of Chauncey's warships.
Plan of the Siege of Plattsburg, and Capture of the British Fleet on Lake Champlain ([Philadelphia, 1814]).  Copperplate engraving.  Map Division, Small Maps 1814.
Macdonough's squadron lay anchored in Plattsburgh Bay on September 11, 1814, when it was attacked by Captain Downie's flotilla.  The sides were evenly matched, but the American ships had rigged "springs" on their anchor cables that allowed them to turn their undamaged sides toward their enemy.  The two-hour action left the British flotilla defeated and Downie dead.  It also deprived General George Prevost's army of naval support in its attack on Plattsburgh.  Prevost withdrew to Canada the next day.
The title of the map identifies Plattsburgh as "Macdonough's Victory."  It was produced as a guide to Benjamin Tanner's large print of the battle.