Randolph G. Adams, first Director of the Clements Library, was a noted bibliographer, historian, and essayist. Appointed Director in 1923, he served for twenty-eight years, until his death in 1951. Building on William Clements' private collection of Americana, Adams transformed a personal library into a true research library specializing in early American history. Adams' scholarly interest in American diplomatic and political history led to two books, Political Ideas of the American Revolution (1922) and A History of the Foreign Policy of the United States (1929).
Adams was an eloquent advocate for rare book libraries, writing numerous articles on collecting and bibliography. His book, Three Americanists (1939), provided bibliographies of three great collectors of Americana. Adams was an active member of the American Historical Association, the American Antiquarian Society, the Grolier Club and the Bibliographical Society of America. During his Directorship, Adams also held an appointment as Professor of History at the University of Michigan.
Adams organized the Library into three Divisions–Books, Manuscripts, and Maps. Although funds were limited in the 1930s and '40s, he made important acquisitions, including the papers of General Josiah Harmar. Two acquisitions made possible by the assistance of Professor Dwight Dumond laid the foundation for the Library's collection of 19th century social and intellectual history–the papers of anti-slavery activists James Gillespie Birney and Theodore Dwight Weld, Angelina Grimké Weld and Sarah Grimké. Adams was a persuasive speaker and writer, energetically publicizing the new library in the academic world. At his untimely death in 1951, Adams had succeeded in developing Clements' private collection into a research library with an international reputation.
Header: Randolph Adams shows students one of the Clements Library's treasures. His son, Tom, looks on from far right.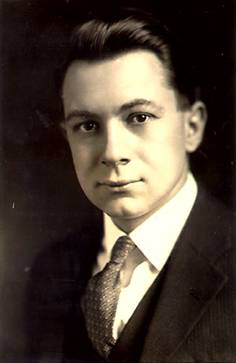 Randolph G. Adams (1892-1951)