Law, Legal History & Legal Institutions Subject Guide
Overview
The William L. Clements Library maintains a growing collection of historical documents and materials that support research into law and legal history broadly imagined. Topics of particular interest include: the origins, development, and codification of law and legal systems; power and coercion in historical societies; slavery, emancipation, and citizenship; property; legal studies and legal practice; civil rights; personal experiences with law such as arrest, detainment or an appearance before a court or other legal authority; and the formation and role of governmental and legal institutions in society. The Clements holds materials documenting a wide range of legal issues and concerns with a particular focus on 18th and 19th century American legal development and American legal systems and institutions.
This subject guide identifies materials produced by governmental or legal institutions and authorities operating within an established and recognized legal system. Court records and transcripts, legal instruments such as contracts, wills and probate records, writs or other legal orders, and warrants fall under this rubric. The Clements also houses legal records like statutes and laws passed by legislative bodies or executives, official decrees or proclamations, law codes to establish and codify a legal principle, and records kept by taxation, census, and other governmental departments and authorities.
Legal historians may explore and analyze individual or group encounters with law and legal forces and also the effect or influence of law in daily life. The lived experience of law, or how an individual or group interacts with law and legal systems, can be readily apparent in the documentation produced by legal authorities, such as the inmate records of the Washington County (R.I.) Jail Ledger. Legal processes can also be explored through the documentation and registration that accompany major life events, such as birth and death, marriage and divorce, estate management, establishing guardianship for personal care or property, and other matters that require legal authority or intervention. Trademarks, copyrights, patents, licensing, and other intellectual property concerns involving regulation are less visible forms of law that control commerce and trade. Importantly, such sources are not taken at face value but viewed through a critical lens attuned to implicit biases within legal events and processes. A central concern of legal historians is to situate law in a broad historical context and to consider how race, class, or gender influence differing perspectives and attitudes towards law and legal systems.
Examples of legal texts from the Book Division include: the American State Papers series, copies of the 1699 Acts and Laws of His Majesties Province of the Massachusetts-Bay in New-England, and the Constitution and Laws of the Choctaw Nation. Select Book Division items, like this published copy of an 1804 Treaty between the United States and Sac and Fox Nations, are available in digitized format through HathiTrust. Manuscript collections like the New Jersey Court Cases (1739-1753), Joseph Story Papers, and Ogden Family Papers shed light on court systems while the Dauphin County, Pennsylvania, Slave Records and Lincoln County (Ky.) Slave Affidavits provide insight into the experiences of enslaved peoples and their encounters with law and legal systems. Noteworthy Graphics Division collections include photographs taken by Bureau of Indian Affairs agents, graphic reproductions of legal documents, and portraits taken for official purposes. Highlights from the Map Division include county atlases and town and city maps. Many Library maps are digitized and accessible through the Clements Library Image Bank.
This subject guide can be distinguished from the James V. Medler Crime Collection of American crime literature, which features books, pamphlets, confessions, and other similar materials produced for popular consumption. However, select items in the Medler collection were produced by legal or institutional authorities, such as police records, mugshots, and jury documents, and readers may find it worthwhile to view both guides.
Selected examples of the resources to be found in each division include:
Book Division
Published constitutions, laws, and treaty texts
Published administrative records of colonies, territories, states, and other jurisdictions
Proceedings of a variety of courts, court martials, and other judicial systems
Survey and exploration records
Debates over proposed laws in pamphlets
Dissemination of major government and military decrees in newspapers and broadsides
Manuscript Division
Public and private correspondence of governmental figures and lawmakers, judges, lawyers
Unpublished legislative, judicial, and administrative records
Affidavits, registers, and other miscellaneous legal documents involving enslavement
Decrees, proclamations, warrants, and other legal orders
Martial law during the American Revolutionary and Civil Wars
Establishment of law and legal regimes in colonial North America
Graphics Division
War Department Corps of Engineers Photographs
Material related to Civil War era prisons and jails
Emancipation cases of Shadrach Minkins (Boston, 1850) and George Kirk (New York, 1846) represented in satiric prints
Graphic representations of government documents such as the Declaration of Independence and Emancipation Proclamation
Celebratory lithographs related to the passage of the 13th, 14th, and 15th Constitutional amendments
Portrait photographs of criminal suspects, convicts, judges, and grand juries
Photos related to the criminal prosecution of Native Americans including that of Plenty Horses (Tasunka, Brule Lakota) for the killing of Lieutenant Edward Casey in 1891; and of those involved in the Dakota Uprising of 1862
Map Division
Printed maps of America 1500-1900
Town and city plans from the 18th and 19th centuries
Cadastral and boundary surveys at a variety of scales
Manuscript maps produced in the context of military conflict
Property maps
County atlases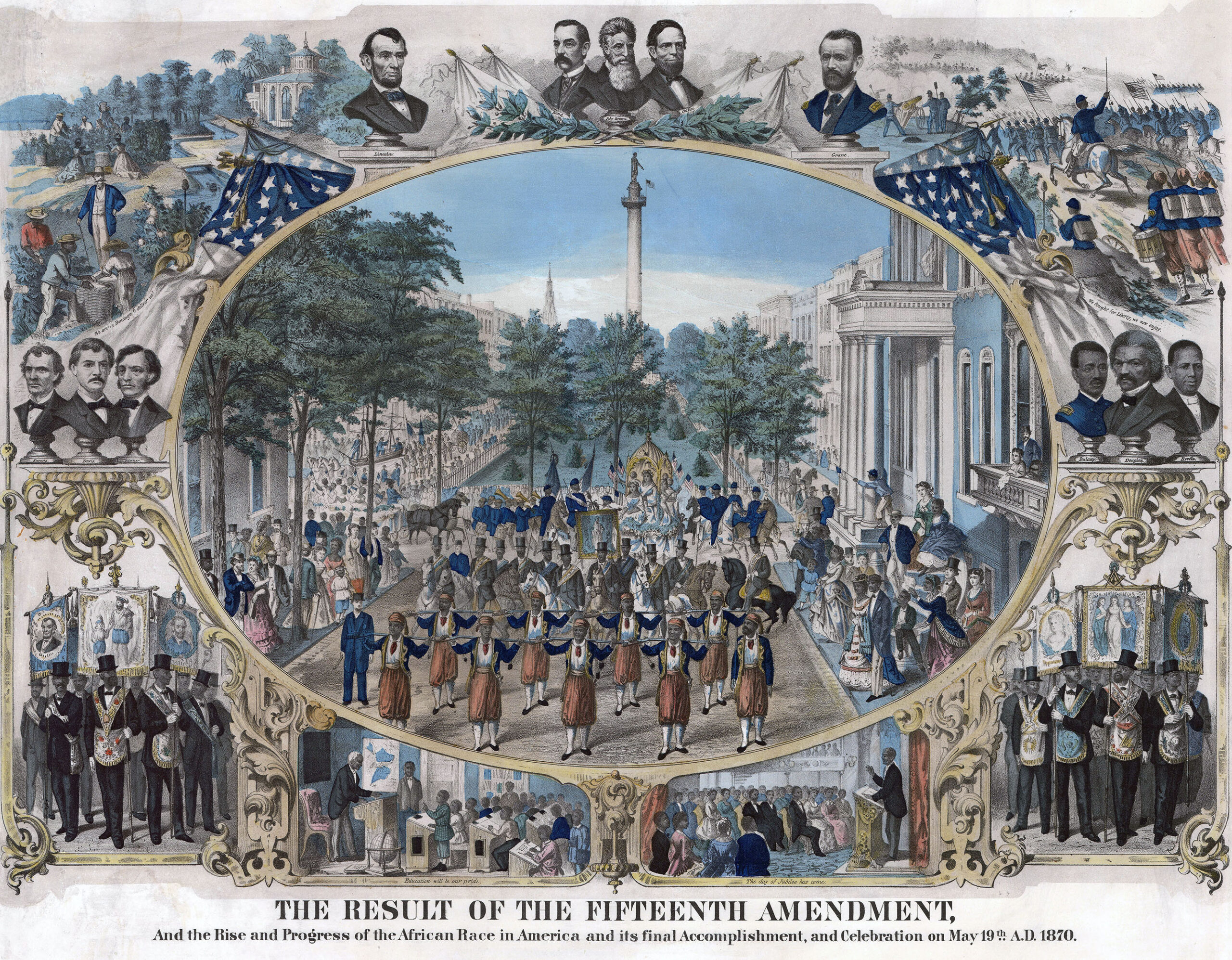 "The Result of the Fifteenth Amendment, And the Rise and Progress of the African Race in America and its final accomplishment, and Celebration on May 19th A.D. 1870." [Baltimore: Metcalf & Clark, ca. 1870.]. Half-colored lithograph, Graphics Division.
Subject Headings
To find collections related to specific governmental or legal institutions, perform subject or keyword searches using the titles of countries, states, and other jurisdictions and departments (eg. United States, Michigan, Michigan Department of Public Instruction, Wayne County, etc.). It can be useful to conduct a catalog search for the name of an individual legal or governmental institution, like Sing Sing Correctional Facility or Eastern State Penitentiary. Official names for departments and agencies can appear in catalog search as a Main Author or Contributor. On occasion private individuals were contracted to produce government documents; author text can include statements such as: "John S. Bagg, official printer to the Legislature."
Administration of Estates
Boundaries
Capital punishment
Crime
Criminal court records
Criminal law
Criminal procedure
Criminals
Confessions
Correctional institutions
Courts
Constitutional law
Debt, Imprisonment for
Depositions
Estates
Estate administration records
Evidence
Homicide
Indentures
Indians of North America–Government Relations
Indians of North America–Land tenure
Indians of North America–Legal status, laws, etc
Indians of North America–Treaties
Indictments
Indigenous peoples
Jails
Judicial records
Landowners
Law
Legal documents
Library of Congress maps
Murder
Ojibwa Indians — Treaties
Outlaws
Prison administration
Prison discipline
Prisons
Prisoners
Prostitution
Public lands
Punishment
Real property
Real property maps
Real property maps, Manuscript
Slavery
Treaties
Trial proceedings
Trials
Wills
World maps
This is only a small sample of relevant subject headings. Researchers should contact the library for more information on keyword or subject-based catalog searches.
Bibliography
Hadden, Salley E, and Alfred L Brophy, eds. A Companion to American Legal History. 1st ed. Hoboken, NJ: Wiley-Blackwell, 2021.
"The Golden Door," [Immigration] The Quarto No. 48 (Fall-Winter 2017)
The University of Michigan Law School Library offers a variety of subject guides oriented towards research for law school, legal studies, and legal practice.