Introduction: The Acquisition of the Henry Burbeck Papers
Brigadier-General Henry Burbeck (1754-1848) was a career United States Artillery officer whose service spanned from the early days of the American Revolution to the end of the War of 1812. When the William L. Clements Library at the University of Michigan had the opportunity to acquire the largest existing archive of Henry Burbeck papers, dating primarily from the period of Henry Burbeck's service as Chief of Artillery in the United States Army from 1802-1815, library staff positively and enthusiastically responded. In 2014, the library purchased over 2,300 letters, documents, and other papers of Henry Burbeck that a military antiques dealer had amassed over the course of around 15 years. Generous contributions from many donors and a matching challenge grant from the Frederick S. Upton Foundation helped the Clements Library offset the considerable expense of the acquisition.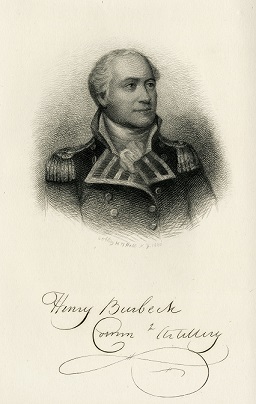 As documentation of Burbeck's 38 year career in the Army of the United States is only cursorily addressed by other sources, the Clements Library's Henry Burbeck papers greatly enhance historical understanding of Henry Burbeck, the United States Artillery Service, and the bureaucracy of the United States Army in the decade before the War of 1812. Within the collection's overarching framework of Army organization and management are individual manuscripts or small groups of items that provide otherwise unknown information on specific, often obscure events and individuals.
In the Spring of 2015, the Gladys K. Delmas Foundation generously provided the library with funds to hire a project archivist to arrange and describe the papers.
When the materials arrived at the William L. Clements, the manuscripts were loosely organized in 3-ring binders by geographical location. In order to better serve researchers the papers were inventoried in their original order, removed from the binders, and arranged in chronlogical order within archival-quality folders and boxes. One significant component of this process was to determine the dates of a large number of undated letters and draft letters in the collection. The processing archivist dated most of these undated items by comparing each of them to other manuscripts in the collection or by identifying datable information in the text.
Another component of the processing project was the identification of letters and documents in need of physical conservation. The processing archivist worked with the library's conservator to identify and analyze approxmately 250 items for this purpose.
Researchers interested in finding out more about the Henry Burbeck Papers are encouraged to access the collection's Finding Aid and the supplementary indices available through the finding aid.