Selected Manuscripts from the Henry Burbeck Papers
Simon Magruder Levy letter to Samuel Smith, April 12, 1805:
Simon M. Levy has the distinction of being the first Jew and second ever person to graduate from the United States Military Academy at West Point. Levy is mentioned by General Joseph Gardiner Swift (the first West Point graduate) in his memoir. He described Levy as being from "a respectable Jew family in Baltimore." Levy rose from the ranks of the army during the Indian Wars of the 1790s. Biographical information on Levy is scarce. This letter is one of few known surviving letters written by Simon Levy, making it a particularly valuable resource for scholars interested in American Jewish history and the history of West Point. Levy sent this letter to Samuel Smith, a Baltimore manwho apparently commanded Levy's unit in the wars of the 1790s. In it, Levy expressed his hopes that Smith would contact the Secretary of War on Levy's behalf in order to secure a transfer to the artillery in New Orleans for the sake of Levy's health.
According to Francis Heitman's Historical Register and Dictionary of the United States Army, from Its Organization, September 29, 1789, to March 2, 1903, Levy died in March of 1807, having resigned from the Army in September of 1805. Levy's concerns about his continued health issues seem to have beenwarranted.
Letters regarding the payment of women for service as Matrons of the Hospital:
Margret Dowland wrote to Henry Burbeck on March 2, 1803, requesting reimbursement for backpay owed for her services as Matron of the Hospital for the previous three years. While there are other letters by and about women in the Henry Burbeck Papers, this is the only one from a woman who held a titled position within the army.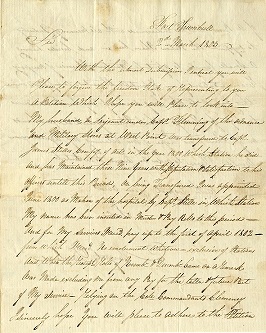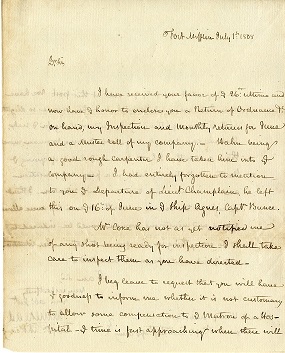 On July 1, 1808, Captain James Read, in a letter to Henry Burbeck, also discussed the payment of Matrons of the Hospital. Capt. Read observed that hard work and unpleasant conditions made keeping a Matron on staff difficult. He argued that establishing a wage for Matrons of the Hospital would help the army keep workers in the demanding position.
Satterlee Clark letter to Henry Burbeck [with enclosure from William Eustis to Ezra Smith], November 2, 1811 [September 30, 1811]:
Lieutenant Satterlee Clark described a fight on the wharf in Annapolis between Sergeant Burgess White and Artificer John Bowers in the fall of 1811, highlighting animosities between enlisted men and non-commissioned officers, and between the public and the Armyl.
Perhaps not surprisingly, Sergeant White's superior officers were satisfied with his conduct. So much so, in fact, that he received a commission in April 1812.