Photographic Techniques and Romanticization
Authentic Indian: The concept that a (usually) Native individual who embraces the Euro-American visual concept of a Native person, relying on stereotypical features such as long dark hair and pan-Indian regalia like buckskins or large bonnets, is a more legitimate Native person than one who does not fit this inaccurate ideal created by non-Native communities.
Pan-Indian: A description of Indigenous activities tied to no specific tribe. After forced assimilation initiatives, a concept of overarching beliefs and practices emerged. This is not to say that individual tribes have relinquished their identity into pan-indianism; it is to explain similar cultural practices that exist among Native people outside of tribal or regional descriptions. 
While many portrait conventions carried over from Euro-American painting traditions, photography also became its own art form with its own conventions. Trained and amateur photographers consciously constructed and designed depictions, always influenced by the photographer's ideology and experience. While some conventions were common regardless of nationality, race, or ethnicity, in many cases photographs of Native Americans formed a crucial piece of a framework that forwarded the myth of the 'Vanishing Race' and other stereotypes. Even operating within the constraints of photography of the time, some Native subjects were able to choose or influence their poses and props. 
The style of photography also ranged depending on if a photographer worked in a studio or the field, whether they were creating albums for personal use, or selling photographs for a profit. Each style carries its own conventions.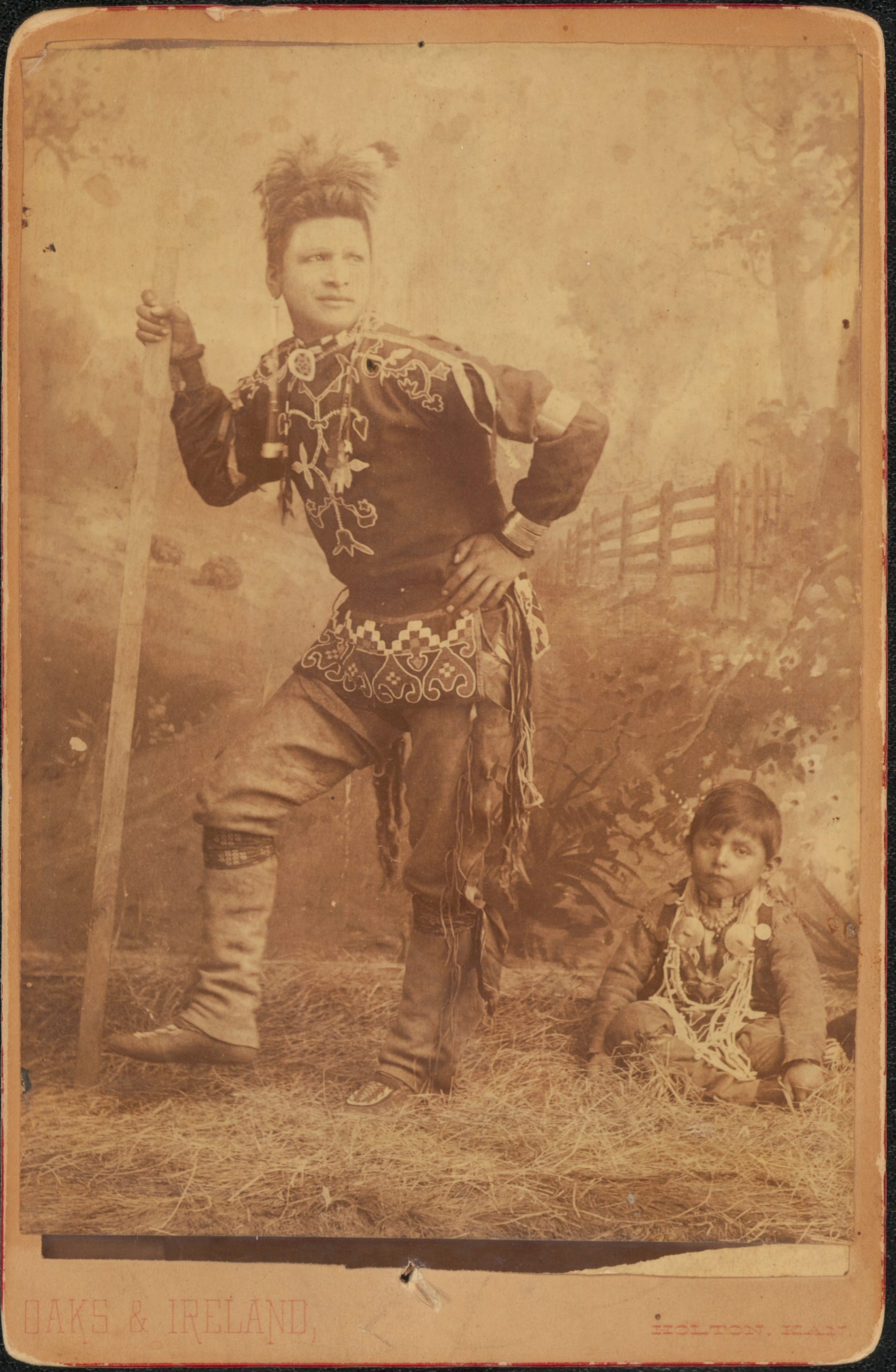 This studio portrait features a Sac and Fox dancer with his son. This image could have been requested by the dancer, wanting an image in regalia with his child, or by the photographer looking for a compelling image to sell. In either case, it is likely that the photographer sold multiple copies, as it was common practice to sell reprints to any customer.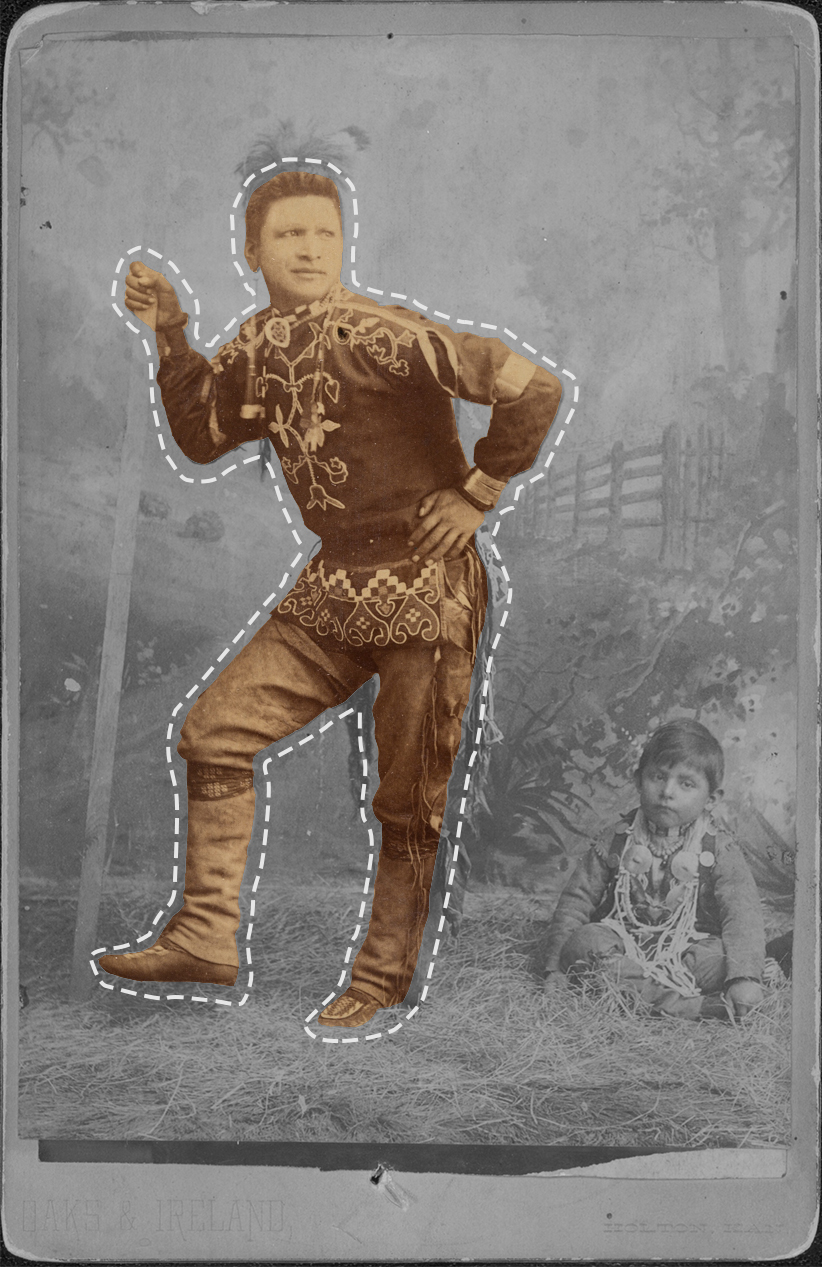 Dressed in traditional clothing, the man poses with his foot raised as he stares off into the distance.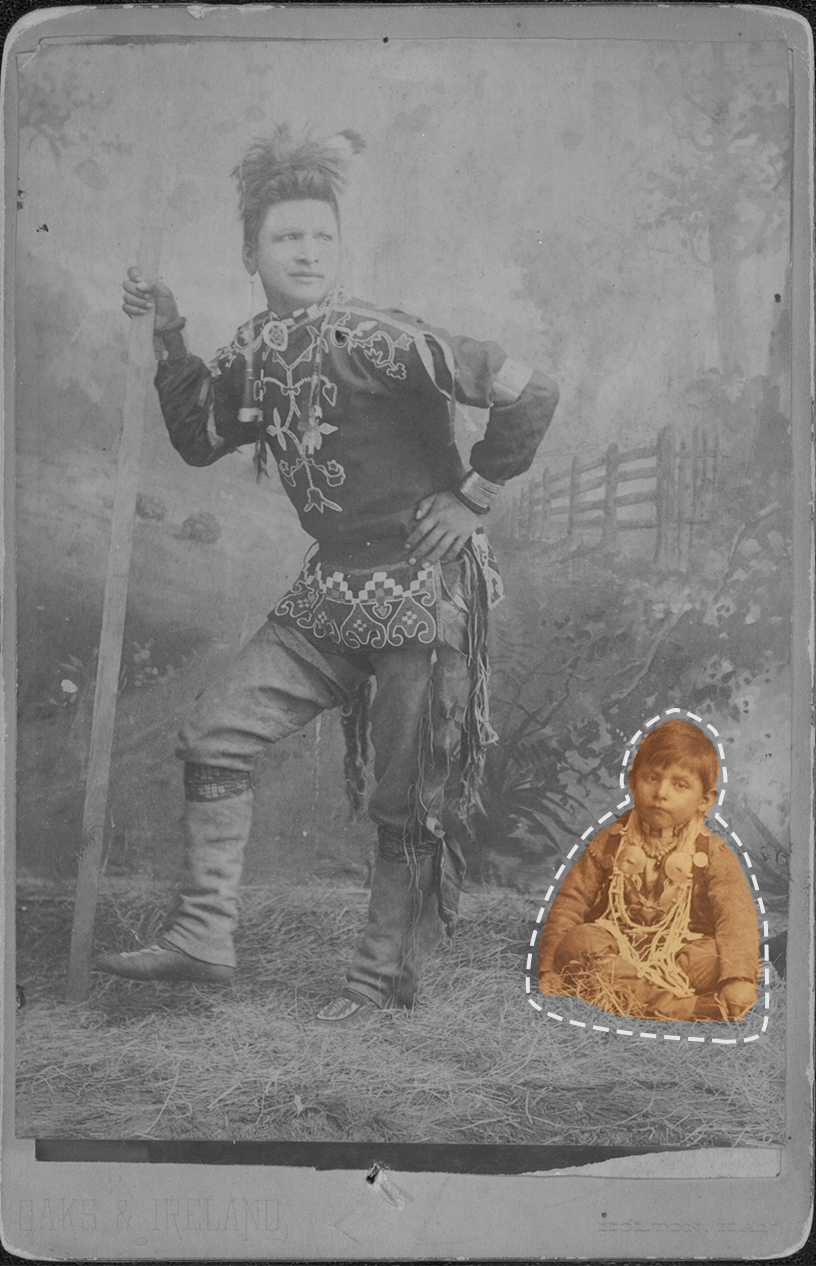 His young son sits on the floor next to him.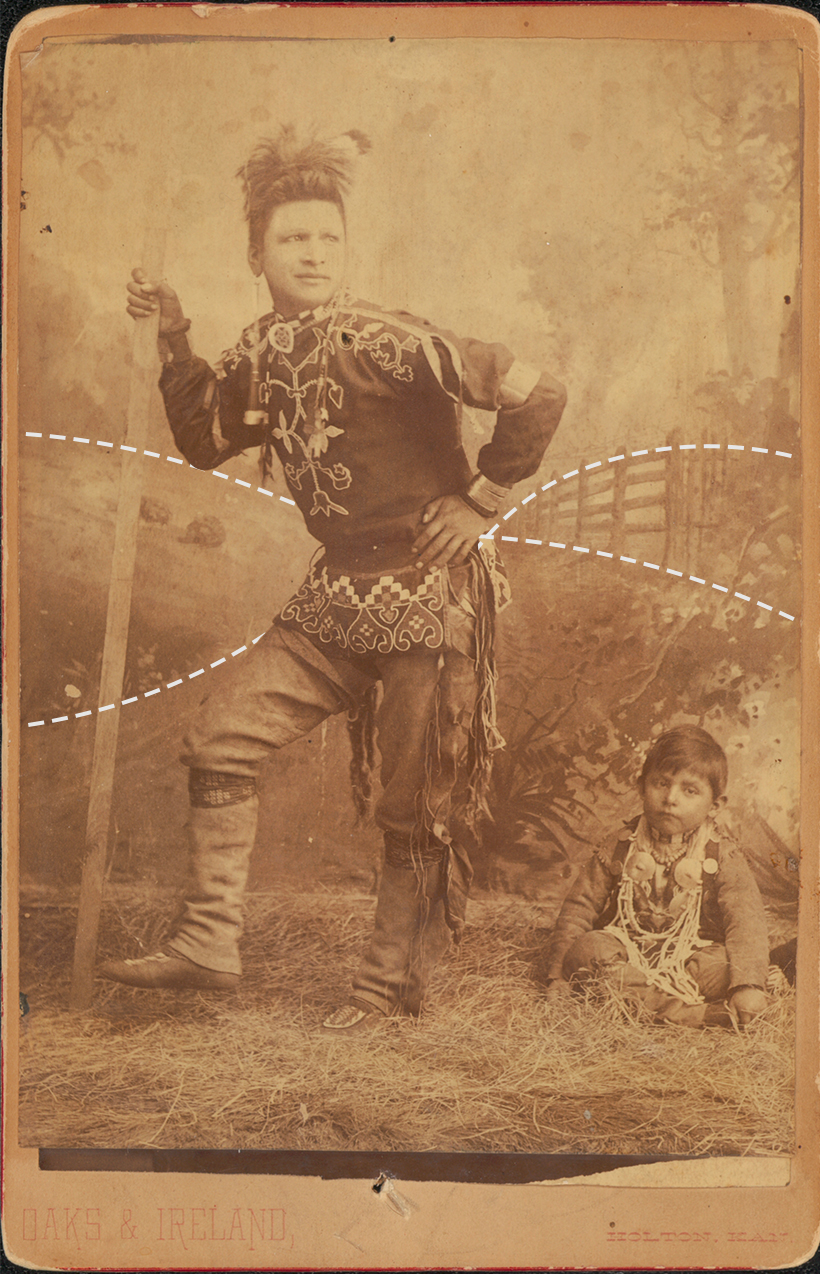 The straw is a typical studio prop to bring the illustrated 'natural' background into the three dimensional space.
O-hi-yesa, Dr. Charles Eastman
Grace Chandler Horn
Gelatin silver print, ca. 1920
This studio portrait follows the "pictorialist" style popular at the turn of the century. This style frequently featured blurred focus leading to romantic, dreamy images such as this one. Photographs like these aligned with beliefs held by non-Natives about mystical, stoic, and fading Native Americans. 
Consider this stylized photograph of O-hi-yesa or Charles Eastman, who was a physician, author, activist, and one of the founders of the Boy Scouts of America. It is unknown if the regalia being worn was Eastman's or if it was provided by the studio, a common practice at the time.
It is possible, even likely, that Eastman commissioned this photo. As Eastman wrote later in his life, he wanted to connect with his Santee Dakota heritage, and photography was one means to do that. His choice to have his portraits done in this pictorialist style show both individual agency and styling on his part, as well as the influence of a prefabricated cultural image of Native peoples.
John Young Bear and friends
Cabinet photograph, ca. 1900
Richard Pohrt, Private Collection
By the late 1910s, when this third studio portrait was taken, photographic technologies had advanced such that photos were easier to produce. This is perhaps one reason this photo reads as more lighthearted and spontaneous.
Here John Young Bear (front right, smiling) and his friends in Chicago seem to have significant agency in posing, and possibly requested the photo. Perhaps they desired to remember this specific time of their lives, signaled by the broad smile of John Young Bear and his relative ease. This photograph might show Native people in a way they chose rather than as symbols created by Euro-American beliefs.
Three of the four men wear matching pins and pose with a number of props — like the deck of cards and figurine — likely chosen from a selection available at the studio. It is unknown if the objects were chosen at random or if they carry additional significance.
Fourth of July
Fanny Hoyt
Gelatin silver print, ca. 1900
In stark contrast to studio portraits, this photograph comes from a personal photo album. Candid snapshot photos like this one became more common in the late 19th century, as affordable and portable cameras became commonplace. Fanny Hoyt, an amateur photographer and librarian from Michigan, visited the Pine Ridge reservation in South Dakota several summers in a row.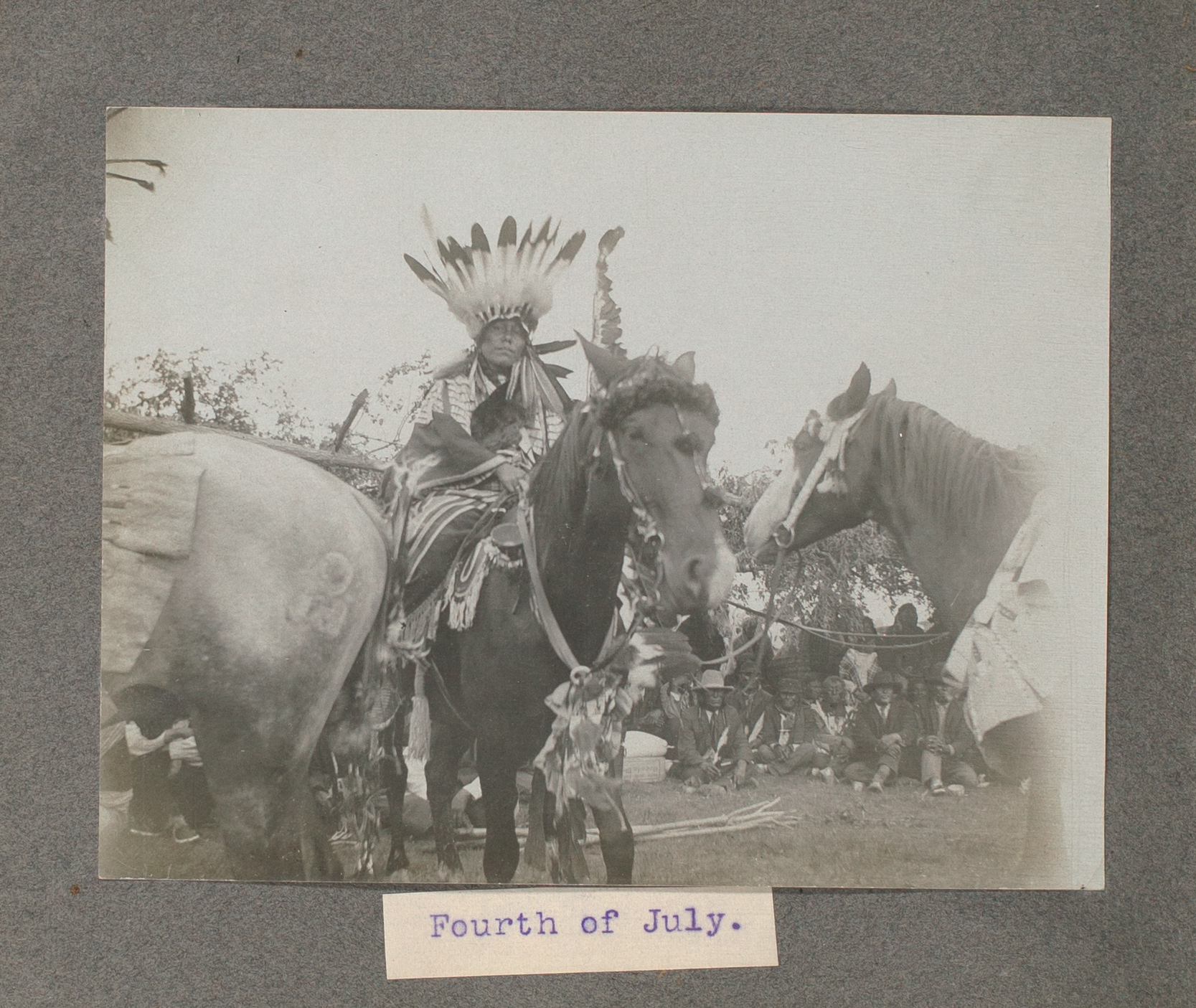 This photograph depicts a Fourth of July celebration around 1900 on Pine Ridge. Fourth of July events held particular importance after the 1883 Religious Crimes Code banned Native Americans from celebrating feasts, dances, and other traditional or religious gatherings well into the 1930s. Many tribes held such events under the guise of sanctioned Fourth of July celebrations, a tradition that continues for some today.
Indians at Cross Village, Michigan
John R. Johnson
Photographic postcard, ca. 1930s
David V. Tinder Collection of Michigan Photography
In contrast to the private albums that Fanny Hoyt and others created, this photograph was taken to be circulated as a postcard.  Much like today, photo postcards were relatively inexpensive to purchase and often featured notes on the back. 
This postcard depicts a powwow in Cross Village in the 1930s. It highlights the intersection of religion, tradition, and performance. Posing in front cordoned-off spectators, tipis staged for the pageant, and the local church, the Natives wear a mixture of Odawa dress, pan-Indian attire (notably headdresses not traditionally worn by Odawa), and western clothes. This mix was likely worn for tourists. 
Three individuals look directly into the camera, but the majority gaze elsewhere. The discovery of other photographs of this same group indicate that more than one camera was present at the event.
Explore the Exhibit
Select any one of the following options to begin exploring the exhibit, or navigate with the Table of Contents to the left. The sections can be approached in any order.