The annual Ann Arbor Art Fair returns this week, and the city's downtown will be transformed as over 1,000 artists set up booths alongside food vendors, performers, and artist demonstrators. The Fair runs from Thursday, July 21st to Sunday, July 24th, and the Clements Library finds itself right at the heart of it all with artists literally at our doorstep.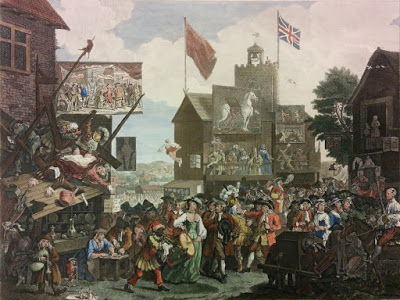 Hopefully the Ann Arbor Art Fair won't be quite as chaotic as the scene depicted in our hand-colored 1734 copy of William Hogarth's print, [Southwark Fair].
On Thursday, our grand Avenir Foundation Reading Room is only open to registered researchers working with our collections. We will have a tent on the south lawn with information about the library.
On
Friday, July 22nd
, our doors are open to all Art Fair revelers who want to come explore our
exhibits
from 10 am – 4 pm (while simultaneously enjoying an air-conditioned reprieve from the forecasted sweltering heat). We are also offering tours of our newly renovated library on Friday at 11:00 am, 1:00 pm, and 3:00 pm. Space is limited, so please email us at
clementsgroupvisit@umich.edu
with your preferred time in order to reserve a spot on a tour.