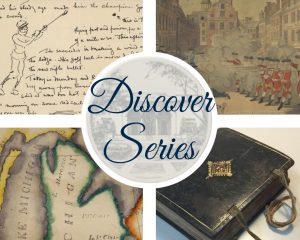 Last fall the William L. Clements Library launched a new type of program, the "Discover Series," to great response. The goal was to provide in-depth coverage of various aspects of the library's work, in a smaller, more informal setting and with time for discussion. While our lecture series allows scholars to share their historical research, the Discover Series is inspired by the work of the library's staff. With the success of the inaugural events, the Clements Library is now pleased to announce a new schedule for the Discover Series in Winter-Spring 2019.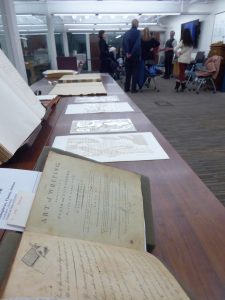 The programs begin with a brief presentation on a specific topic of relevance to the collections and continue as a dialogue with the audience. Within the workspaces at the library, our staff are able to display materials from the collections for discussion. Participants enjoy the opportunity of a first-hand look at our rare books, manuscripts, maps, and graphics outside of a formal exhibition setting. These deep dives explore both the historical significance of the materials and how they are acquired and preserved by the library for scholarly research.
Topics and dates for the Discover Series in early 2019 are as follows:
• Student Internships: Working with Collections that Highlight Underrepresented Perspectives. January 17, 4:00pm – Learn more/ Register
• Love Letters & Romance in the Archives. February 14, 11:00am – Learn more/ Register
• Beyond the Lens: Hidden Features of 19th century Ambrotypes. February 28, 4:00pm – Learn more/ Register
• Merging the Old and the New: Bird's-Eye Views of America. March 21, 11:00am – Learn more/ Register
• A Close Look at Vues D'Optique. March 28, 4:00pm – Learn more/ Register
• Books as Physical Objects: Examining Selections from the Clements Collection. April 25, 4:00pm – Learn more/ Register
The Discover Series is free and open to the public, but space is limited. Attendees are asked to arrive at the library's north glass atrium entrance to check in. Please register and view all upcoming Clements Library programs on our events calendar. To receive our monthly Clements Connection Newsletter, sign up here.