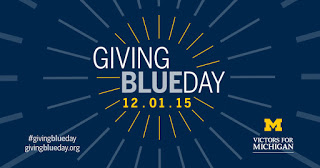 Today the University of Michigan is hosting Giving Blueday, a university-wide campaign to participate in the growing tradition of Giving Tuesday, a global day of generosity to mark the opening of the holiday season. All of us at the Clements Library would like to invite you to join in this initiative. Your support enables us to build and preserve our world-class collection of early Americana.
For Giving Blueday you can choose from a number of different funds that advance our mission to collect and preserve the primary source materials used by students, scholars, and the general public alike. Consider giving to our Acquisitions Fund if you would like to support the Clements's efforts to purchase materials for our collections. The manuscript and rare book markets can be competitive and expensive, but our curators' keen eyes for "new" materials have made our collections some of the best in the world. While we continue to pursue large collections and the rarest of materials, more modest purchases add nuance and context to our holdings as well. If you wonder what your donation could purchase, consider this item recently acquired for $150.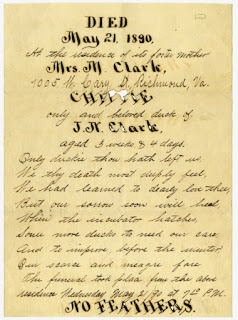 A tongue-in-cheek elegiac poem for Chippie, the "only and beloved duck of J. N. Clark," this charming manuscript gives a unique glimpse into a nineteenth-century family's relationship with pets, death, and satire. All donations made today, no matter their size, can quickly add up and help us purchase such singular items. Another way to offer more general support for acquisitions, while also getting some added perks, is to join the Clements Library Associates. Contributing to this fund not only helps the Clements Library purchase extraordinary items, like this exquisite 1793 hand-colored manuscript map Plan de Carthagene en Murcie, but you also receive membership benefits such as invitations to special events, and our semi-annual publication, The Quarto.
Detail from Baerend, Plan de Carthagene, ([Paris?],1793), purchased with funds from the Clements Library Associates.
Many of our supporters and researchers enjoy the public programming offered by the Clements Library. Donating to our Lectureship Program helps host speakers on early America. Another way to help us reach wide audiences is through our Technology Fund. As an example of how digitized collections can be used, explore the webpage for the Arabella Chapman Project. The Clements Library has two unique photograph albums compiled by Arabella Chapman, an African American woman who lived in Albany, New York, and North Adams, Massachusetts. In collaboration with Dr. Martha S. Jones and her University of Michigan classes, the Clements has made these albums available online for student and public use.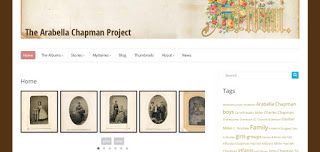 Visit the Arabella Chapman Project, where you can digitally page through these unique albums, just one example of how the Clements Library's resources benefit from technological support.
Other digitization efforts currently underway are being made by our Joyce Bonk Assistant, Noa Kasman. She is currently working on establishing an online image bank for Clements materials and will be scanning books relating to African American history to be uploaded to HathiTrust. Whether you wish to sponsor a fellowship, as the Bonk family generously did, or give towards our general Technology Fund, your donation can further our efforts to get more content available digitally. For distant researchers having our materials online would make all the difference. Your donation can make this possible.
Our conservation initiatives go hand-in-hand with our digitization efforts, as both seek to preserve our collections for future use while making them as widely accessible as possible. Donating to our Conservation Fund could help us create custom housings to protect the most fragile items in our collections. Whether it be a simple wrap or an elaborate tray case, placing fragile bound manuscripts in protective coverings can help prevent shelf wear, light damage, and other environmental impacts. Our Charity Hospital (New Orleans, La.) Lunatic Asylum Admission Book contains admittance records from 1841-1848 for patients suffering from mental health troubles and contagious diseases. Relevant to the history of science, gender, race studies, and other subjects, this admission book contains a wealth of information. However, in order to ensure that it remains in usable condition, it needs some help.
The volume's binding is very fragile, its original cloth cover is fraying, and some pages have separated from the spine. Your donation to our Conservation Fund could go towards protecting incredible resources like this, ensuring that all of its information remains available for study by researchers and students.
If you find it difficult to choose just one area to support the Clements Library, you can always opt to donate to our General Fund, which will grant us the freedom to use your generous contribution to support the multifaceted operations that keep our Library a world-class institution.
As we celebrate the generosity and open-heartedness that characterizes Giving Tuesday, we hope that you will consider the Clements Library as a worthy recipient for your contribution.
Please support the Clements Library today. If you would like to discuss giving opportunities further, please contact Angela Oonk at angmo@umich.edu or phone 734-647-0864.