Tomorrow is Thanksgiving, and here at the Clements Library we're thankful for all of our supporters.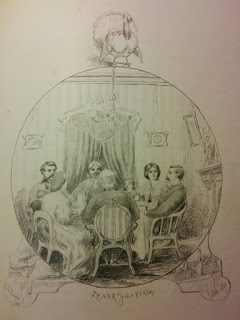 From a recent acquisition, The Club Room Gazette, a manuscript magazine produced by members of the Everett Literary Association in 1861. This beautifully illustrated volume is in need of conservation, one of several ways your Giving Blueday donation could be put to good use.
December 1st is Giving Tuesday, a global day of giving that celebrates generosity as we enter the holiday season. We hope you will consider participating in the University of Michigan's part in it, Giving Blueday.
This is the second annual Giving Blueday, and we invite you to take advantage of this chance to make a gift to the Clements Library. Your donation makes a difference to us and can sponsor our acquisitions, conservation, and outreach.
Please join us on December 1st in this new tradition of generosity!