The Clements Library is delighted to announce its list of research fellowship awardees for 2021-22. Because of the backlog in research visits from last year's fellowship cohort due to the COVID-19 pandemic, we pushed our application deadline back this year, from January 15 to March 1. Even so, we received close to 100 applications, our highest number ever. From this extraordinarily strong pool, we were able to award 23 fellowships to scholars from 14 states and the District of Columbia, as well as New Zealand. Members of this new cohort will be eligible to begin their research visits starting September 1, 2021.
This year's fellowship offerings represent the beginning of a shift in the library's visiting research program, as we work to offer researchers the opportunity to spend longer periods in residence conducting research in Ann Arbor than we have in the past. In addition to allowing scholars the chance to engage with Clements collections in greater depth, it brings our fellowship program into better alignment with fellowships offered by peer institutions, and fosters the development of community among visiting scholars. In addition to a continuation of a set of week-long fellowships, the Clements has awarded 11 short-term fellowships intended to bring scholars to Ann Arbor for a month each, as well as 3 long-term fellowships of at least three months' duration. Two of these long-term fellowships were awarded to doctoral candidates. We are particularly excited to be able to offer for the first time the Alfred A. Cave Fellowship, endowed by Professor Cave's widow Mary Koslovsky to support research in Native American history.
The range of projects listed below is a testament to the breadth of the Clements Library's collections, across all four divisions. Fellows will be conducting research on topics including the environmental history of the northeast during the French and Indian War; Loyalism in the mid-Atlantic during the Revolution; New York City's experience with its first yellow fever epidemic; and the visual culture of 19th-century patent medicines. Proposed projects draw on familiar collections, such as the Thomas Gage and Henry Clinton Papers and the Weld-Grimké collection as well as less-used resources, including 16th-century Spanish colonial records from the Yucatan, late 19th-century maps of California and Oregon, and Midwestern farmers' diaries.
Supporting research is the reason that the Clements Library exists. While the members of the staff have worked tirelessly to provide scholars with remote access to our collections during the pandemic, we are all eager to see the beautiful Avenir Room in use again, and to help visiting fellows discover the riches of the Clements collections.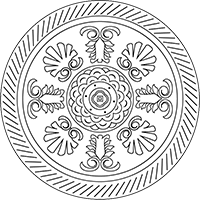 2021-22 William L. Clements Library Fellows
Long-Term Fellowships (3 months)
Norton Strange Townshend Long-Term Fellow
Mariah Gruner, Boston University, "Puncturing Femininity: The Construction of Race and Gender in Antislavery Needlework"
Jacob M. Price Dissertation Fellow
Jessica Fletcher, Vanderbilt University, "Before the Amistad: Atlantic Litigants and the Politics of Haiti and Cuba's Legal Currents in the Early Nineteenth-Century US"
Howard H. Peckham Dissertation Fellow on Revolutionary America
Camden Elliott, Harvard University, "Sisyphus in the Wilderness: Environmental Histories of the French and Indian Wars, 1676-1766"
Short-Term Fellowships (1 month)
Norton Strange Townshend Short-Term Fellows
Richard Bell, University of Maryland, "The First Freedom Riders: Streetcars and Street Fights in Jim Crow New York"
Greta LaFleur, Yale University, "A Queer History of Sexual Violence"
Phillippa Pitts, Boston University, "Picturing a Medical Democracy: The Art & Visual Culture of American Pharmacopeia, 1800-1860"
Alfred A. Cave Fellow
Samantha Davis, Pennsylvania State University, "In Plain Sight: Negotiating Gender and Race in Yucatán, 1521-1821"
Howard H. Peckham Short-Term Fellows on Revolutionary America
Adam McNeil, Rutgers University, "'I Would No Go With Him': Black Women, Liberty, and Loyalism in the Revolutionary Era Mid-Atlantic, 1775-1815"
Sarah Pearlman Shapiro, Brown University, "Women's Communities of Care in Revolutionary New England"
Keely Smith, Princeton University, "Communicating Power and Sovereignty: Creek and Seminole Communication Networks from 1715-1880"
Emily Yankowitz, Yale University, "Documenting Citizenship: How Early Americans Understood the Concept of Citizenship, 1776-1840"
Reese Fellows in the Print Culture of the Americas
Daniel Couch, U.S. Air Force Academy, "Literature, the Subject, and the Act of Erasure After 1750"
Danielle Skeehan, Oberlin College, "Genealogies of the American Quill: Settler Colonialism, Slavery, and the Natural History of Handwriting"
Week-Long Fellowships (1 week)
Richard & Mary Jo Marsh Fellow
Carrie Bramen, University at Buffalo, "'The Journey-work of the Stars': A Cultural History of Astrology in the American Nineteenth-Century"
David B. Kennedy and Earhart Fellow
Carolyn Eastman, Virginia Commonwealth University, "A Plague in New York City: How the City Confronted—and Survived—Yellow Fever in the Founding Era"
Norton Strange Townshend Week-Long Fellows
Aaron Hall, University of Minnesota, "The Founding Rules: Slavery and the Creation of American Constitutionalism, 1789-1889"
Amanda Moniz, Smithsonian Institution, "Isabella Graham, Founding Philanthropist"
Heather Walser, Pennsylvania State University, "Amnesty's Origins: Peace, Federal Power, and the Public Good in the Long Civil War Era"
Mary G. Stange Fellow
Nikki Hessell, Victoria University of Wellington, "Lewis Cass and the Poetics of Treaties"
Howard H. Peckham Week-Long Fellow on Revolutionary America
Marcus Nevius, University of Rhode Island, "The Revolution from Below: A Story of Race and Slavery in the Old Dominion, 1760s to the 1790s"
Brian Leigh Dunnigan Fellowship in the History of Cartography
Nicole Sintetos, Brown University, "Reclamation: Race, Labor, and the Mapping of Settler States"
Introduction to Archival Research Fellowship (1 week)
Forty-three Foundation Fellow
Rachael Schnurr, Eastern Michigan University, "Adapting to Americanization: Mixed Race Families and the Coming of the American State"
Digital Fellowship
Jacob M. Price Digital Fellow
James Rick, College of William & Mary, "Cultivating Machines: Capitalism and Technology in Midwestern Agriculture, 1840-1900"
— Paul Erickson
Randolph G. Adams Director of the Clements Library